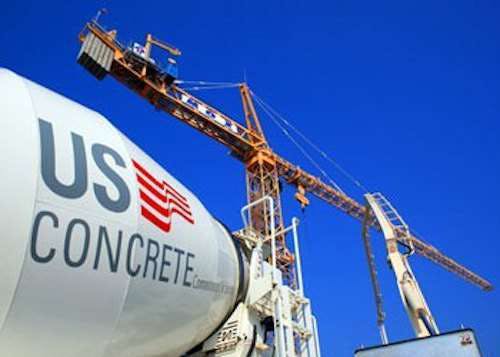 U.S. Concrete, Inc. reported a net loss of $2.3 million for the second quarter 2017, which is an improvement over the $3.5 million net loss in the second quarter of 2016. Results include recognition of a $15.8 million non-cash derivative related loss resulting from fair value changes in the company's outstanding warrants and $2.4 million in acquisition-related costs.
Loss from continuing operations was $2.2 million during the second quarter, compared to a $3.3 million loss from continuing operations in the 2016 second quarter.
Additional second quarter 2017 highlights include the following:
Consolidated revenue increased 23.6 percent to $340.9 million;
Aggregate products revenue increased 19 percent to $22.8 million;
Aggregate products average sales price improved 7.5 percent to $12.86 per ton;
Ready-mixed concrete revenue increased 24.8 percent to $310.1 million;
Ready-mixed concrete average sales price improved 4.2 percent to $134.43 per cubic yard;
Net loss per diluted share of $0.15 compared to net loss per diluted share of $0.23;
Adjusted Net Income from continuing operations per diluted share of $0.95 compared to $0.54 in 2016;
Total Adjusted EBITDA increased 55.4 percent to $53.0 million; and
Total Adjusted EBITDA margin of 15.5 percent compared to 12.4 percent.
"Our strong second quarter results demonstrate that we continue to successfully build upon our leadership positions in the major metropolitan markets in which we operate and capitalize on positive demand trends," said William J. Sandbrook, President and CEO of U.S. Concrete, in a press release. "We drove these superior results with our development of market leading positions in high growth urban areas with difficult operating environments and lack of reliance on external stimulus or local government funding. Our market strategy continues to prove successful and allowed us to achieve our 26th straight quarter of year-over-year revenue growth and 25th straight quarter of ready-mixed concrete pricing growth. Additionally, we remain focused on operating excellence and capitalized on our strategic operating leverage, which drove incremental aggregate products segment and ready-mixed concrete segment Adjusted EBITDA margins of 72.7 percent and 27.2 percent, respectively, through the first half of 2017.
"We are very optimistic for the balance of the year, because we produced these results despite weather-related challenges in some of our major markets, including the Dallas/Fort Worth metroplex, which recorded the fifth wettest June on record and the wettest June in the past decade," Sandbrook continues. "Underlying market demand remains strong with the Architectural Billing Index at its highest point in three years and recently announced gross domestic product growth in the United States of 2.6 percent driven by solid growth in personal spending, nonresidential investment, and federal government spending. These underlying positive trends continue to support the growth in our backlog and drive increased bidding activity in our markets.  We have good visibility into the next 12-18 months and expect the current growth in our volume and pricing and margin expansion to continue."