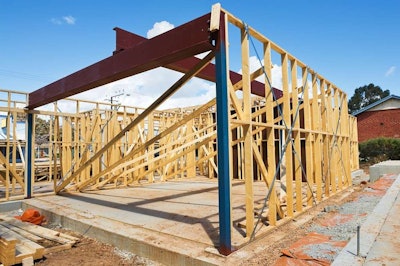 U.S. construction spending fell 1 percent in January as residential gains weren't enough to offset drops in nonresidential and government spending.
Spending fell to a seasonally adjusted annual rate of $1.2 trillion in January but remains up 3.1 percent over the January 2016 total, according to preliminary data from the Commerce Department.
Private homebuilding rose 0.5 percent for the month to $476 billion and is now up 6 percent over the year-ago total. Single-family spending rose 1.1 percent to a rate of $254 billion and is up 2.3 percent annually. Multi-family spending rose 2.2 percent to $63 billion and is up 9 percent on the year.
Total nonresidential spending fell 2 percent to $698 billion in January. All but four nonresidential markets saw declines during the month.
Top nonresidential percentage declines were: public safety where spending fell 16.6 percent to $7.3 billion; water supply, which fell 11.6 percent to $10.5 billion; and conservation and development, which fell 6.6 percent to $7.1 billion. Top percentage increases were power, where spending rose 1.5 percent to $97 billion; communication and manufacturing, which both saw 0.5-percent increases to $22 billion and $70 billion, respectively; and lodging, which rose 0.2 percent to $29 billion.
Despite the rough month, total nonresidential spending remains up 1.5 percent year over year.
Total spending from the private sector rose 0.2 percent to $912 billion while government spending fell 5 percent to $269 billion.