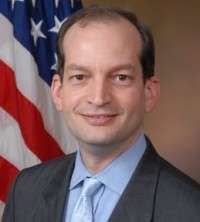 Less than 24 hours after Andrew Puzder withdrew his nomination as Secretary of Labor, President Trump announced the nomination of Alexander Acosta to fill the position during a press conference at the White House, saying, "I think he'll be a tremendous Secretary of Labor," The Hill reports.
Acosta is a Republican and served on the National Labor Relations Board (NLRB) from December 2002 to August 2003. He is currently the Dean of Florida International University's law school. Acosta is a Harvard law graduate and was appointed by President George W. Bush in 2003 to be the assistant attorney general for the Civil Rights Division of the Department of Justice. He was the first Hispanic U.S. Assistant Attorney General and longest-serving U.S. Attorney for the Southern District of Florida, and, if confirmed, will be Trump's first Hispanic Cabinet member.
Senate Health, Education, Labor and Pensions Committee Chair Lamar Alexander (R-Tenn.) praised Acosta's nomination. "He has an impressive work and academic background," he said, according to the report. "We will schedule a hearing promptly after his nomination papers arrive in the Senate, and I look forward to exploring his views on how American workers can best adjust to the rapidly changing workplace."
Business groups were happy that President Trump had selected a new nominee so quickly. "We look forward to learning more about Alexander Acosta and his position on the issues important to the restaurant industry," Cicely Simpson, executive vice president of the National Restaurant Association, said in a statement, according to the news agency.
According to The Hill, the National Association of Manufacturers President and CEO Jay Timmons released a statement saying Acosta was a "proven leader, who understands the complexities of the modern workplace. We are hopeful that he will listen to manufacturers' concerns as we work to strengthen employer–employee relationships and provide workers with the right skills to succeed. In recent years, regulations coming out of the Department of Labor have too often been overreaching and counterproductive, harming manufacturers' abilities to create jobs and do what's best for the millions of hardworking men and women employed in manufacturing careers."
However, according to the news agency, Allied Progress, a liberal group, accused President Trump of failing to vet another nominee, pointing to a 2008 report on an investigation into allegations of politicized hiring and other improper personnel actions in the Civil Rights Division in which Acosta was accused of not taking sufficient responsive action in response to the reportedly poor conduct and judgment of his Deputy Assistant Attorney General Bradley Schlozman.
The Hill reports that Allied Progress Executive Director Karl Frisch released a statement saying, "We understand that the President is still reeling from his last failed Labor nomination, but that doesn't mean he should nominate someone who is wholly unqualified for the job. Americans deserve a Secretary of Labor who will fight for workplace safety, fair wages, and the rights of working families. It's clear Mr. Acosta is not that person."