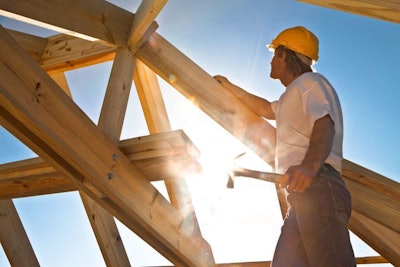 With a 2.1-percent month-to-month increase, U.S. home starts rose in July on the strength of multi-family construction gains.
Home starts rose to a seasonally adjusted annual rate of 1.211 million during the month, a 5.6-percent increase over the July 2015 rate, according to preliminary data from the Commerce Department.
Single-family home starts were up 0.5 percent during July to a rate of 770,000 and are up 1.3 percent over the year-ago figure. Multi-family starts rose 8.3 percent to a rate of 433,000 and are up 15.2 percent over July 2015.
Building permits, a good barometer of how the homebuilding industry is trending, were basically flat for the month, falling 0.1 percent during July to a rate of 1.152 million. Permits are 0.9 percent above the June 2015 estimate.
Builder confidence in the housing market is up, according to the National Association of Home Builders/Wells Fargo Housing Market Index. In August the index rose two points to a 60, following a downward revision of the July index from a 59 to a 58. Any reading above a 50 indicates most home builders believe market conditions are good.
NAHB chairman Ed Brady said in a prepared statement that an increase in new home sales in most parts of the country is bolstering builder confidence.
"Builder confidence remains solid in the aftermath of weak GDP reports that were offset by positive job growth in July," added NAHB chief economist Robert Dietz. "Historically low mortgage rates, increased household formations and a firming labor market will help keep housing on an upward path during the rest of the year."