Despite a decrease in sales during 2015, Volvo Construction Equipment managed a huge improvement in operating income for the year thanks to market share gains and strong performance in North America and Europe.
The company reported fourth quarter sales of SEK 11 billion ($1.3 billion), down 11 percent from the same period last year. Operating income for the quarter drastically improved from a loss of SEK 815 million last year to a loss of SEK 191 million (-$23 million) in 4Q 2015.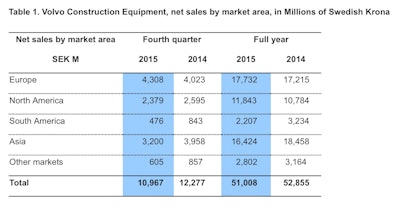 Full year sales fell 3 percent to SEK 51 billion ($6.1 billion) while operating income nearly doubled from 2o14 to SEK 2.1 billion ($249 million).
As the chart to the right shows, the company managed sales gains in North America and Europe for the year. Those gains were offset however by losses in Asia and South America—regions where all equipment manufacturers have reported slack demand.
Specifically, the Volvo earnings report points to "large declines in China and Brazil, coupled with headwinds in many markets outside of North America, which also showed signs of cooling."
Volvo CE president Martin Weissburg called the global market for construction equipment "flat to down" in the report and praised his company's "efficiency" as the primary reason for its successful "transformation".
"Despite lower sales…we took market share in larger, more profitable machine segments, completed the exit [from] backhoes, graders and milling machines and strengthened a new governance structure that allows us to make clear, informed decisions," he said.