Two construction activity forecasts issued today cite positive short term outlooks, while indicating concerns for long-term sustained growth.
PCA will likely adjust its fall forecast to "at most" a 5 percent growth in cement consumption in 2016, a revision that will take into account the recently-passed FAST highway funding bill and the continuing downward spiral in oil prices, says Ed Sullivan, PCA group vice president and chief economist.
Sullivan made his remarks on the opening day of the World of Concrete, being held this week in Las Vegas.
In addition, Wells Fargo announced that its Construction Optimism Quotient (OQ) index for 2016 fell to 108 from its 10-year peak of 130 in 2015. Wells Fargo says the 108 figure is still "highly optimistic," a ruling indicated by any OQ number above 100. The index has been above 100 since 2011 and the 2016 figure is the fourth highest in the past five years.
PCA: Everything centers around labor
PCA, due to issue an updated forecast in March, still expects cement consumption to grow 5.7 percent in 2017. "Everything centers around the labor market, and there's a net of 200,000 new jobs being created every month," Sullivan says. "That penetrates every market of construction, and suggests continuation of positive growth. Job creation and increased wages means consumer spending, which will be key this year."
The residential market equation has changed from "I can't sell them" to "I can't build them," Sullivan says. It's also the market that's been hardest hit by lost workers. And at just 1.1 million housing starts, the market is still significantly below its 2 million start at the housing boom.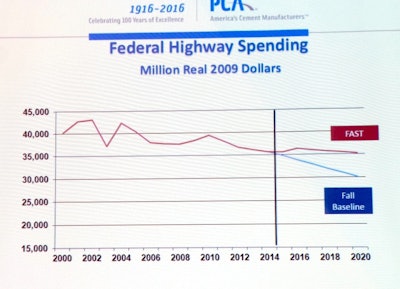 "We've concluded the labor shortages took 75,000 to 150,000 homes out of the market," says Sullivan. Another housing headwind: Millennials, seeing housing values take a nose dive during the Great Recession, are not jumping to buy homes. Sullivan sees Millennials delaying their home purchases by five to six years instead of choosing not to purchase at all.
On the public construction side, the new Fixing America's Surface Transportation Act (FAST) highway funding bill will have a positive affect, albeit a muted one. "Taking out inflation, we had expected declines in federal highway funding prior to FAST, and FAST neutralizes that, with a slight increase this year, and then remaining flat," Sullivan says. "In real dollars, FAST only softened the decline."
Wells Fargo Optimism Quotient declines
Key respondent groups, including contractors, aggregate producers and construction equipment dealers, were more closely aligned this year than in years past, Wells Fargo says. Distributors, historically more optimistic about local construction activity than contractors, had OQ scores more closely aligned this year with contractors (114 compared to 111).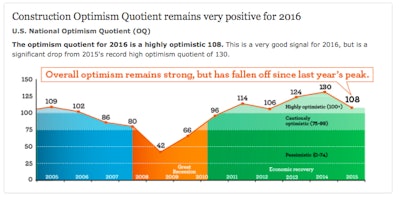 "The key ingredient to the OQ is whether the industry expects local nonresidential construction to increase, remain the same or decrease," says John Crum, Wells Fargo national sales manager, equipment finance. "Compared to the five-year trend, 2016 could be very positive, although with less enthusiasm about future trends."
Forty-eight percent of contractors said they expected nonresidential construction to increase this year compared to 2015. On the dealer side, 50 percent of dealers expect nonresidential increases.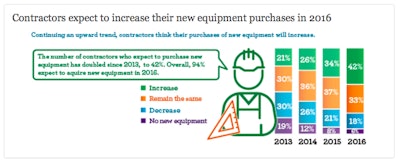 When asked specifically about new equipment purchases, 42 percent of contractor respondents said they expected these to increase this year compared to 2015. Only 6 percent of the respondents said they would not be acquiring new equipment this year.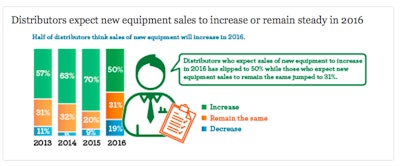 Asked about new equipment sales expectations for 2016, 50 percent of dealer respondents said they would increase compared to 2015. Another 57 percent said used equipment sales would increase this year, compared to last year.
In creating the OQ, Wells Fargo surveyed two primary groups: construction equipment distributors and construction contractors/aggregate producers. More than 475 people responded to the survey, and increase of 15 percent over last year's survey.