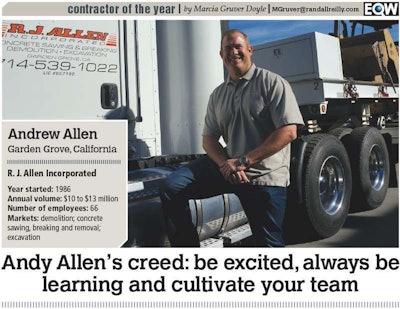 Andrew – or Andy – Allen chuckles when asked how he got his start in construction. "I guess you could say I was born and raised in the company," he says about the firm his parents founded.
Allen started in the company shop, cleaning and maintaining equipment, and then operating it. Although he took some construction management courses in college, he says, "my other college was the school of hard knocks."
But there was more to it than that. "I always wanted to learn more," Allen says. "Every job we do is different, and I was always intrigued by that."
Allen bought the company in 2000 and now specializes in a variety of work including concrete sawing, demolition and commercial rehab.
Allen – who used to short track race in his spare moments but now says he's "learning how to relax" – likes diversification. "We're very open minded," he says. "We do a lot of contract work, specialized commercial remodeling, and we do it all: asphalt, electrical, demolition, excavation and core drilling." Clients are also diversified, including commercial and aerospace companies, hospitals and the California Department of Transportation. "We are fortunate; most of our work is repeat work," Allen says. "We don't chase after a lot of new work."
A different perspective on emissions
Allen has a different perspective than many contractors in the area on California Air Resources Board regulations, which require a certain percentage of a contractor's equipment fleet be compliant with the latest emissions regulations.
Allen sees using Tier 4 equipment as a competitive advantage. "It was a huge sacrifice and scary, but I think it's paid off," he says. Clients such as Southern California Edison require top emissions tier equipment, "and it gives us an advantage to have that equipment."
While the entire industry has gone through the EPA emission regulations for new equipment, California contractors such as the Garden Grove-based R. J. Allen are also under CARB regulations. It prompted Allen to change his fleet management approach as the industry made its way through Tier 3 and Tier 4 Interim and now Tier 4 Final equipment.
"We used to buy, but when it came to the point we always had to have the latest tier machines, we converted to three-year leases," Andrews says. By leasing, the company always got the latest emissions-compliant equipment, and "it helps out with machine reliability," he says.
Now that Tier 4 Final appears to be the last emissions hurdle to jump – at least for now – Andy may consider going back to buying.
The firm has a self-propelled fleet made up of primarily backhoes and skid steers. Most maintenance is done in house with a three-person shop and an on-call field mechanics truck.
"We'll do a lot of breaking and use a Cat 450 backhoe with a hammer to get the production we need," Andy says. Operator and shop input is a key component of machine purchases, especially with the company's core machines. "Some of our operators have been around for a long time and they like certain types of controls. We like to go with what they like," he says.
He also sends a crew to World of Concrete in Las Vegas each year to check out new technology and products. "Shawn Ellis is in charge of our field operations, and he's always having our operators try out new things," he says. In addition to its regular slate of contract work,
R. J. Allen also provides machine-with-operator-rentals to contractors and clients throughout its service area of southern California. Although it varies from year to year, this type of service work is roughly about 30 percent of the company's revenues.
"Everything is a 10."
"By far, they are the best contractor we work with in Southern California," says Glen Jackson with client Bedrock Company. "They have the most equipment, the newest equipment and the best operators. Everything about their operators is a 10."
Jackson is also impressed with their safety program, calling it "second to none. We've adopted a lot of the things they do because their program is so good."
In addition to the company's tailgate meetings every morning, it has a 5 p.m. barbeque every month to go over an OSHA topic and talk about recent safety-related incidents. The barbeque talks are videotaped, so if someone's working out of town, they can view it later. "It's required for everyone to see it," Allen says. And if R. J. Allen works on a job that requires a more advanced level of safety than what they currently have, the company adopts the advanced practices for all jobs.
The company's emphasis on training – including the latest equipment certifications – can make its employees prime targets for companies looking to poach. "I try to tell our people to look at the big picture," Allen says. "And some of the guys who have left to start their own companies have come back."
Allen praises his management team, including Shawn Ellis and Ron Markham. "I'm involved with supporting them and making sure we're on the same page," which includes gaining insight from MAP, a leadership and management training company based in California. "My guys come to me with solutions instead of problems."
The emphasis on people is across the board at R. J. Allen. The company uses a team building consultant and a sports medicine therapist. For the convenience of its workers, who are sometimes working all hours, company headquarters has a shower and a rest area, plus a room with a couple of exercise machines.
Even if, as Allen says, "this is all I know," you realize after talking with him for awhile he wouldn't have it any other way. "I'm always excited to come to work, to see my people achieve and move up, and be able to buy houses in Orange County, California," he says. "I'm fortunate to have such a great team. It makes it all worthwhile."
This attitude is noticed the company's clients. "If something needs taken care of, they just do it and don't bother you," says client Markus Kneubuhler with Hakanson Construction. "They are just an awesome group, one that's just as capable as the big guys."