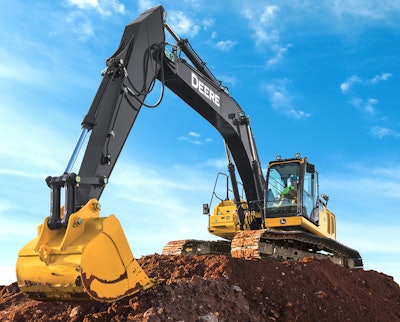 Construction and forestry equipment sales are the only bright spot for John Deere, albeit a dim one, as the heavy equipment manufacturer continues to see profit and sales declines due to the global slowdown in agricultural equipment demand.
The manufacturer reported an 18-percent decline in sales during the second quarter to $8.171 billion. Profit fell 30 percent to $690.5 million, or $2.03 per share.
The company reported a sales decrease of 17 percent to $14.554 billion for the first six months of the year alongside a profit decrease of 35 percent to $1.077 billion.
Construction and forestry equipment sales rose 2 percent during the quarter while operating profit for the division rose 43 percent to $189 million.
Agriculture and turf sales fell 25 percent during the quarter while operating profit plummeted 48 percent to $639 million.
"Our performance reflected the adept execution of our operating plans and contributions of a well-rounded business lineup," said Samuel R. Allen, the company's chairman and CEO, in a statement. "We also saw benefits from our success developing a more responsive cost and asset structure, a fact that gives our performance a greater degree of resilience."
In response to the down quarter, the company has downgraded its equipment sales outlook for the year, now forecasting a 19-percent drop. However, the company pushed up its expectation for profit from $1.8 billion to $1.9 billion—a 40-percent decrease from 2014.