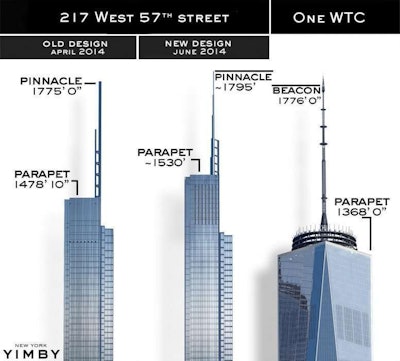 In case you haven't noticed, we're in the thick of a supertall building boom. As we reported earlier this year, 97 skyscrapers and 11 supernal buildings (skyscrapers taller than 984 feet) were completed in 2014—more than in any other year.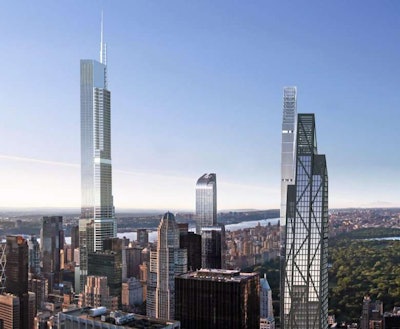 And nowhere is the race to the tip-top heating up more than in New York City, the home of the current tallest building in the U.S./Western Hemisphere, the 1,776-foot-tall One World Trade Center.
But just in the last year, as New York Yimby reports, three other buildings have risen to supertall status, rising as high as 1,421 feet, while keeping reverent distance from One WTC's symbolic height.
However, that might soon change, as NY Yimby reports the Nordstrom Tower at 217 West 57th Street has updated its design plans, increasing the building's height by 20 feet to 1,795 feet. That would make it the tallest building in the U.S. by 19 feet.
As you can see in the Yimby graphic above, created using leaked plans the site came across, not only will the building's pinnacle reach higher than One WTC, its parapet, extended in the updated plans by 52 feet, will be 162 feet higher as well.
There's one problem with the Yimby report, however. Gary Barnett, the head of Extell Development, the company which owns the Nordstrom Tower, is denying that plans for the tower have been changed.
"The Nordstrom Tower will categorically not be taller than 1 World Trade Center," Barnett told the New York Post. Barnett has previously stated that the building was designed to be shorter than One WTC, "out of respect."