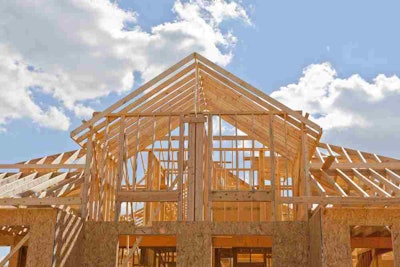 Thanks to a big April, the start of construction on new homes in the U.S. has fully recovered and then some from a rough winter punctuated by a 16-percent drop in February.
Home starts rose 20.2 percent in April to a seasonally adjusted annual rate of 1.135 million, according to preliminary data from the Commerce Department. Starts are up 9.2 percent from the previous year.
The report also revised March's figure to a rate of 944,000, boosting what was previously reported as a 2-percent gain to a 5-percent gain.
Breaking down the figures, single-family starts rose 16.7 percent to a rate of 733,000 while apartment construction was up 32 percent to a rate of 389,000. Single-family starts are up 14.7 percent year-over-year while apartment construction is down slightly by 0.5 percent.
Despite the huge increases, home builder confidence has fallen off a bit. According to this month's National Association of Home Builders/Wells Fargo builder sentiment index, builder confidence is dow 2 points to a 55. Any reading above a 50 indicates most home builders believe market conditions are good.
NAHB Chairman Tom Woods said in a statement the second quarter of the year "is shaping up to be very solid."
"Consumers are exhibiting caution, and want to be on more stable financial footing before purchasing a home," added NAHB chief economist David Crowe. "On the bright side, the HMI component measuring future sales expectations has been tracking upward all year, mortgage rates remain low, and house prices are affordable. These factors should spur the release of pent-up demand moving forward."