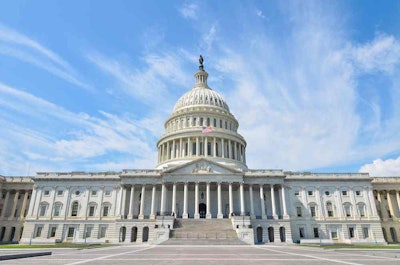 Two days after the legislation was passed by a tight vote in the House, the Senate passed a $1.1 trillion spending bill Saturday night that includes both good and bad news for federal construction accounts in 2015.
The bill keeps the government funded through September, when the fiscal year ends. The Senate passed the spending package 56-40 while the House passed it 219-206. Saturday night's passage came at the end of an odd day for legislators which you can read more about in a report from the New York Times.
According to the Associated General Contractors of America, the bill appropriates $106 billion for federal construction accounts—a $5 billion cut compared to 2014 levels. The bill cuts military construction deepest, decreasing funding in 2015 by $3 billion, or 40 percent, according to the AGC analysis.
When it comes to transportation construction, not much was changed from 2014. The bill designated $40.3 billion in federal aid for highway projects, matching 2014 and MAP-21 levels. The bill also appropriates nearly $9.5 billion in formula grants and $2.1 billion for the new starts program to the Federal Transit Administration, according to the AGC.
However, the bill cuts the TIGER competitive grants program by 17 percent to $500 million.
Airport improvement projects at the Federal Aviation Administration were funded at $3.35 billion, unchanged from 2014.
Finally, the construction account for the U.S. Army Corps Civil Works Program was funded at $1.6 billion—$514.5 million more than the president requested in his budget.