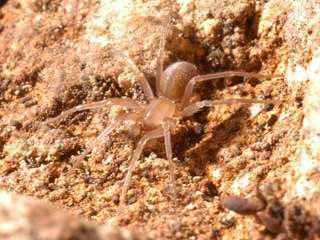 A construction project at one of San Antonio's most congested areas of traffic that has been delayed for the past two years has transformed and nearly tripled in cost due to the discovery of a tiny, and very rare blind spider.
According to a report from the San Antonio Express-News, the originally $15.1 million construction of an underpass at a new intersection of Texas Highway 151 and Loop 1604 was stopped in 2012 after the discovery of a Cicurina Vennii spider in a small cave beneath the jobsite.
Since then, the Texas Department of Transportation has been redesigning the project. Rather than excavating the site for an underpass and potentially hurting the spider or disturbing its habitat, TDoT has opted to build an overpass at the intersection. The design overhaul adds $30 million to the project's cost and won't break ground until next year.
The spider, which is about as big as a dime and has no eyes, is protected by the Endangered Species Act and is also known as the Bracken Cave meshweaver. The spider's body is translucent, making it very hard to spot. Consequently, the 2012 discovery was only the second recorded instance in history.
In Bexar County, of which San Antonio is the county seat, such snags are a pretty common occurrence for builders. According to the News-Express report, there are 28 endangered species listed in the area due to the many, "strange subterranean creatures found in caverns and karst formations across the northern part of the county along the Edwards Aquifer's recharge zone."
To streamline the process of building around these species, and doing more to protect them, the county, local builders and the city of San Antonio, have jointly developed a Habitat Conservation Plan which you can read more about at the News-Express website.