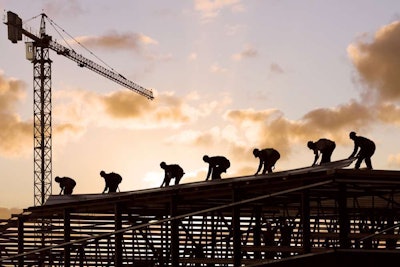 Showing signs of momentum after a slowdown from the harsh winter weather seen at the start of the year, the U.S. construction industry saw its largest gain in jobs since the start of the year.
The industry added 32,000 jobs in April marking the fourth straight month of gains.
The total number of jobs in the industry now total 6 million, 3 percent higher than the same time one year ago and the highest number seen since June 2009, according to preliminary data from the Bureau of Labor Statistics.
The improvement in April follows a gain of 17,000 jobs in March. That gain was originally reported as 19,000 but the latest BLS report included a revision of the March and February employment totals.
So far this year, the industry has added an average of 31,000 jobs each month, a number largely boosted by January's gain of 51,000 workers.
The industry's unemployment rate fell for the second straight month to 9.4 percent. That's the lowest rate since November of last year before before a three-month streak of gains pushed it to 12.8 percent in February.
Meanwhile, the U.S. economy added 288,000 jobs in April, the most in two years. The U.S. unemployment rate fell to 6.8 percent, its lowest level since September 2008.