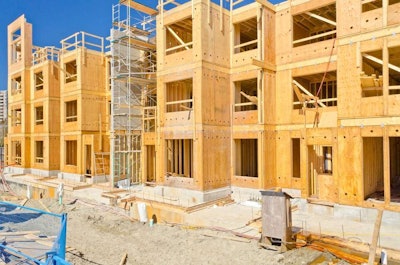 Construction spending in the U.S. ticked up 0.1 percent in February despite a decline in homebuilding, according to preliminary data from the Commerce Department.
Total spending rose in February to a seasonally adjusted annual rate of $945.7 billion from the revised January figure of $944.6 billion. Due to the revision of that figure, what was a 0.1-percent increase in January is now a 0.2-percent decrease from December.
February's rate is 8.7 percent higher than February 2013.
Private nonresidential construction accounted most for the month's increase with a 1.2-percent gain to $320 billion, led by a 3.5-percent gain in hotel construction at $16.7 billion.
Meanwhile, homebuilding fell to $360.3 billion. The 0.8 percent drop is the largest since July. The drop is thought by economists to be a temporary one as home construction is expected to remain a driver in the economy for the rest of the year.
Government construction spending rose 0.1 percent to $265.7 billion, led by a 5.1-percent gain in residential spending to $4.8 billion. Government nonresidential spending was flat.
Overall residential construction spending fell 0.7 percent to $365.2 billion. That figure is up 13.1 percent from the previous year.
Overall nonresidential spending rose 0.6 percent in February to $580.4 billion, up 6.1 percent year-over-year.