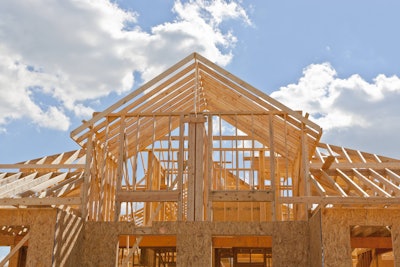 Construction spending in the U.S. again rose slightly in January, according to preliminary data released by the Commerce Department today.
Spending rose a small 0.1 percent to a seasonally adjusted annual rate of $943.1 billion from the revised December figure of $941.9 billion. Last month, the Commerce Department reported a preliminary figure of $930.4 billion for December.
The preliminary January figure is 9.3 percent higher than it was in January 2013.
Economists had expected the decrease due to the harsh winter weather much of the country saw during January.
Overall residential construction spending in the U.S. rose 0.9 percent in January to a rate of $364.4 billion. That's a 14-percent improvement over January 2013.
Much of the momentum lost last month was due to a slip in nonresidential spending and a third-straight month of declines in government spending.
Nonresidential spending fell 0.3 percent to a rate of $578.6 billion. That's down 6.5 percent from January 2013. Private nonresidential fell 0.2 percent to $310.8 billion.
Private residential made up for the nonresidential losses with a 1.1-percent gain in homebuilding to $360 billion. The mark is 14.6 percent higher than the January 2013 number.
Government construction spending fell 0.8 percent to $2272.3 billion. Public residential spending took the hardest hit, falling 13.4 percent percent to $4.4 billion, while public nonresidential spending fell 0.5 percent to $267.8 billion.