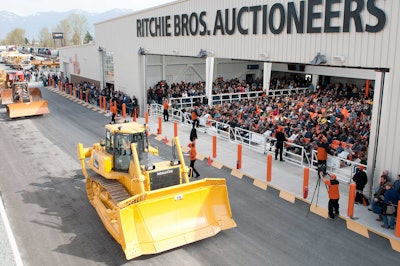 Despite a record-breaking fourth quarter, Ritchie Bros. Auctioneers saw equipment sales fall 3 percent in 2013 to $3.8 billion.
"This was an important year for our business," said CEO Peter Blake in a prepared statement. "We had a focused strategy to grow our sales force and improve the performance of our underwritten (or 'at risk') business. On both counts, we have made great progress."
The company will release a full financial statement and analysis on March 4, 2014.
During the fourth quarter, the company sold $1.1 billion worth of equipment, the highest ever for a fourth quarter and an increase of 10 percent over the same quarter in 2012.
Blake attributed the success in the fourth quarter to "the much improved performance of our underwritten business."
Online, the company sold approximately $1.4 billion worth of equipment, the most ever for the company in one year and an 8-percent improvement over the previous air.
The company also saw a record number of online bidder registrations during the year and in total attracted 6.3 million unique visitors to RitchieBros.com during the year. The site was viewed more than 14.7 million times during the year, an increase of 15 percent over 2012.
Blake noted that the company increased its sales force to its largest size ever and praised the launch of EquipmentOne.com, an e-Bay like equipment market place where buyers and sellers can negotiate and settle transactions.