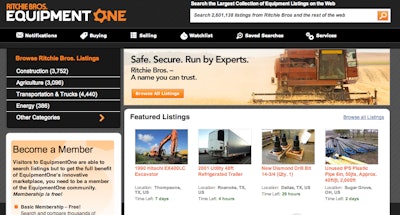 Ritchie Bros. has launched EquipmentOne, an online equipment marketplace where buyers can negotiate and settle transactions. Think of it as an eBay for construction equipment.
Sellers can set their asking price or a "Buy It Now" price, while buyers can make offers and view other offers made. Photos and videos of the equipment along with condition and model information are listed as well.
The company says this is an initial launch with core functionality. Enhancements to the site will be made on an ongoing basis and the next major update to the site and full commercial launch is set for the second quarter of this year.
EquipmentOne was built upon the foundation of the AssetNation platform which Ritchie Bros. purchased last May for about $64 million. EquipmentOne was built for equipment owners whose buying and selling preferences may not be met by Ritchie Bros.'s live unreserved auctions.
"Our updated estimate of the global used equipment market suggests that it is in excess of $200 billion in annual transaction value with approximately half of all equipment transacations taking place on a private treaty basis," said Ritchie Bros. CEO Peter Blake in a prepared statement. "Our surveys show that most of these private sellers are unsatisfied with their current experience because it's not easy, and in many cases it's not safe and secure."
The company says that much of the equipment and materials sold on EquipmentOne will be similar to those sold at Ritchie Bros. auctions.