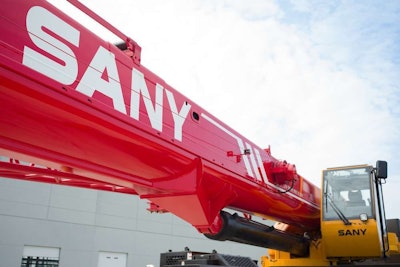 It's been a rough year for Sany.
Back in January, despite the fact that a decade-long infrastructure boom in China had already come to a crashing halt, equipment manufacturer Sany had high hopes for its expansion into the U.S. and other foreign markets. The Chinese company told of its ambition to over take Komatsu and Caterpillar and become the world's largest equipment manufacturer.
Then in June Manitowoc filed a lawsuit against Sany arguing that Sany crane engineer John Lanning, whom Sany lured away from Manitowoc in a controversial hire, misappropriated two patents dealing with counterweight systems when designing the 550-ton SCC8500 crawler. The U.S. government has since launched its own investigation.
Most recently, Sany America chairman and CEO Tim Frank resigned immediately from his position on October 11. Frank said simply "the time came for me to move on." No successor has been named.
And now comes an article from Forbes detailing how Sany's move into the U.S. and other foreign markets, along with that of fellow Chinese manufacturers XCMG and Zoomlion, "isn't working."
Sany's net profits have fallen by 40 percent since 2011, according to the report, with sales expected to drop to $6.7 billion this year. Meanwhile, Zoomlion's first half earnings report showed that profits had been cut in half since the year prior and XCMG's stock price has fallen by 75 percent.
And though the companies have slowed production by a third and things are looking better in terms of construction activity in their home country of China, the 280,000 machines on the market there are 50 percent more than what is needed, the Forbes report says.
The report says that due largely to over-support by the Chinese government during the country's infrastructure boom, the companies appear to have been unprepared for the rigors global expansion. Specifically, convincing reputable dealers to distribute their machines.
What's worse is that due to the high importance each company plays in its local economy, the report says they were unable to adapt to the market effectively. "Each of these three is tightly woven into the economy of its region; payrolls must support tens of thousands of workers," the report reads. "So when business went bad, none of them cut payrolls by more than a few percentage points."
All of that being said, Sany isn't giving up. The company still has high ambitions and just announced the 2014 launch of three motor grader models in North America.