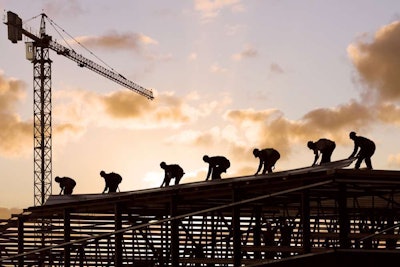 Giving their opinions on how they see things shaking out in the remainder of 2013 and how things will shape up for 2014, three construction industry economists painted a fairly positive picture of growth with a tinge of uncertainty, according to a report from SmartBlogs.
Kermit Baker, chief economist at the American Institute of Architects, said he sees residential construction growing by 22 percent this year followed by 28-percent and 29-percent increases in 2014 and 2015, respectively. In nonresidential, Baker pointed to an "emerging upturn" based on the AIA's Architecture Billings Index. Baker said he sees public spending remaining flat in 2014.
Both Baker and Ken Simonson, chief economist at the Associated General Contractors of America, said they see construction spending growing between 6 and 10 percent in 2014. Simson said that type of growth should continue through 2017.
Among causes of concern for the industry are the yet-to-be-seen effects of the government shutdown on the rest of this year, with Bernard Markstein, chief economist at Reed Construction Data, saying that the shutdown "probably cost us 1/2 percent in fourth quarter GDP growth."
And of course there are the lingering uncertainties of the skilled worker shortage and the impending September 2014 expiration of the MAP-21 transportation bill that threatens to decrease highway construction spending dramatically. Simsonson said he doesn't believe Congress is willing to increase spending.
Bernard Markstein, chief economist at Reed Construction Data, expects nonresidential construction to improve by the end of this year and to continue growth through 2015.
Markstein and Simonson agree that the manufacturing sector should increase its construction spending. Markstein sees more companies building here in the U.S. due to rising global wages and better infrastructure in the States. Simonson added that growth there could be sharp if the federal government puts effort into facilitating it.
Simonson and Markstein agreed education spending on construction will likely decrease in 2013 and could continue to do so through 2015. Simonson added that retail and office construction could decrease in the next few years as well due to fewer jobs being created and the U.S. consumer's transition to online shopping.