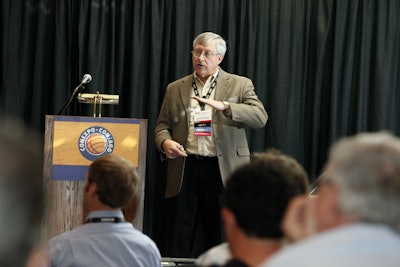 With 2,400 exhibitors and more than 2.3 million square feet of exhibits, next year's ConExpo-Con/Agg will live up to its billing as North America's largest construction equipment trade show.
Of special interest to our crowd will be the Equipment Management and Maintenance education track, produced in cooperation with the Association of Equipment Management Professionals. These sessions include:
Tuesday, March 4
• 8:30 – 9:30 a.m.: Telematics in Transition for Fleet Managers
Speakers: TBD (OEM and fleet manager telematics experts)
Hear about the latest developments in telematics, including the joint effort of AEMP and the Association of Equipment Manufacturers to move telematics adaption forward.
• 10-11:30 a.m.: World-Class Fleet Maintenance Planning and Implementation
Speaker: Ricky Smith, Allied Reliability Group
This session will walk maintenance professionals through the top maintenance planning action items, designed to help them move from a reactive into a proactive approach. Without these three "must do" tasks, maintenance scheduling and execution will fail.
• 3-4 p.m.: Equipment Transactions in the Balance Sheet and P&L
Speaker: Mike Vorster, CEMP Central
Equipment managers need to understand a company's profit and loss statement and balance sheet. Attendees will take a look at a typical construction company profit and loss statement and gain insight into how equipment charges should be handled in the various steps required to calculate operating income. And, after examining what goes into a company's balance sheet, the session will explore how knowledge of these reports will underline the importance of profitably using capital.
Wednesday, March 5
• 8:30-9:30 a.m.: Equipment Metrics and Benchmarking – Know What to Measure, Know What to Expect
Speaker: Mike Vorster, CEMP Central
Metrics and benchmarking can be complex, especially in the diverse world of equipment management, where few universal definitions, norms and standards exist. This session will look at fleet activity metrics, including deployment and utilization. Also addressed are input metrics (such as labor hours per operating hour) and output metrics (such as availability and reliability). The session will also examine metric examples and conclude with innovative ideas for presenting results in reports and management dashboards.
• 10-11:30 a.m.: Your Equipment Manager: Fireman or Leader
Speaker: James Schug, FMI
Why are equipment professionals essential to any company? How can they help you navigate today's changed landscape? The equipment manager role has evolved during the Great Recession, emerging as a strategic partner in company leadership teams.
• 3-4 p.m.: Evolution of Tier 4 Regulations and Project Specific Requirements
Speaker: Mike Buckantz, Associates Environmental
Today's diesel engine regulations have incorporated Tier 4 engine emissions technologies. What types of projects are requiring the use of Tier 4 equipment, and how are they specifying its use?
Thursday, March 6
• 8:30-9:30 a.m.: The Effective Movement of Oversize/Overweight Equipment
Speaker: Douglas Ball, Specialized Carriers & Rigging Association
Today's challenging environment has a maze of federal and state regulations that affect your ability to operate safely, efficiently, legally and profitably. This session will focus on the need for uniformity and harmonization of state rules and policies for the effective and efficient movement of over-dimensional cargo.
• 10:30-11:30 a.m.: Repair/Replace/Rebuild: Planning for Effective Equipment Decision Making
Speaker: Greg Peet, Heavy Equipment Services
The components of the repair/replace/rebuild decision process will be looked at, including identifying which data must be collected, and what processes can make the data work for the equipment owner. The session will look at maintenance effectiveness, condition monitoring, repair before failure and the benefits of partnering with equipment dealers that can help you in this process. What are the rules of thumb when it comes to making an effective repair/replace/rebuild decision?
• 1-2:30 p.m.: Fuel and Fuel System Contamination
Speaker: Howard Chesneau, Fuel Quality Services
How to keep ethanol from contaminating your fuel storage systems and damaging your equipment and trucks.
• 3-4 p.m.: Strategic Maintenance Issues: An Executive Approach to Equipment Maintenance
Speaker: Mike Vorster, CEMP Central
Preventive and condition-based maintenance are two actions in a spectrum of activities that affect the cost and reliability of a fleet. Hear how they cannot be optimized in isolation and must be consistent with repair, rebuild and replace policies.
Friday, March 7
• 8:30-9:30 a.m.: Making a Business Case for Telematics
Speaker: TBD
• 10:30-11:30 a.m.: Managing Electrical Diagnostics
Speaker: Dan Sullivan, Sullivan Training Systems
What is the process of diagnosing and repairing electrical systems (especially since it's completely different than performing the same functions on mechanical systems)? This session will cover different processes – and even people skills – that managers need to successfully manage the electrical diagnostic and repair process.
• 1-2:30 p.m.: Voltmeter-Only Electrical Diagnostics
Speaker: Dan Sullivan, Sullivan Training Systems
This course will describe and demonstrate a new method of performing electrical diagnostics using only a voltmeter. This method avoids the use of an ohmmeter, which has shortcomings, and corrects for errors present in many maintenance and troubleshooting manuals.