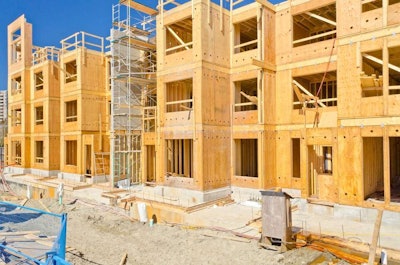 Construction spending in the U.S. rose by 0.6 percent in August to its highest point since April 2009, according to preliminary data from the Commerce Department.
According to the data, total construction spending rose to $915 billion in August. The total marks a 7.1-percent improvement over the same time last year.
The boost comes thanks to gains in both public and private construction. Public construction spending rose 0.4 percent to $274.5 billion—the fourth consecutive month of gains despite falling federal spending—while private construction spending rose 0.7 percent to $640.5 billion. That's the highest mark for private spending since January 2009.
The Commerce Department's August report was scheduled to come October 1 but was delayed by the 16-day government shutdown which ended last Wednesday.
Total residential spending rose 1.3 percent to $346.4 billion, while total nonresidential rose 0.2 percent to $568.5 billion. The biggest total nonresidential July gains came in public, which rose 7.4 percent to $9.5 billion, and amusement and recreation which rose 6.9 percent to $14.3 billion.
Private residential construction spending rose 1.2 percent to $340.2 billion while private nonresidential rose 0.1 percent to $300.2 billion. Amusement and recreation was the big private nonresidential winner with a 5.4-percent gain to $6.1 billion, followed by transportation with a 1.7-percent gain to $12. 3billion.
Public residential construction spending rose 4.3 percent to $6.2 billion in August while public nonresidential spending rose 0.3 percent to $268.2 billion.