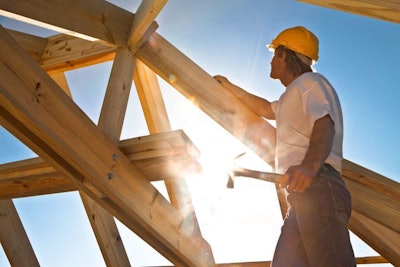 Following a few months of ups and downs, U.S. construction starts on new homes are showing signs of stabilizing a bit with a second consecutive month of gains in August.
New home starts rose 0.9 percent in August to a seasonally adjusted annual rate of 891,000, according to preliminary data from the Commerce Department on Wednesday.
That mark is an improvement of 19 percent over the same time one year ago.
The seasonally adjusted annual rate for single family homes rose an encouraging 7 percent to 628,000 in August. However the sizable gain was more than offset by the 9.4-percent drop in apartment starts to a rate of 252,000.
Building permits too were down in August, dropping 3.8 percent to a rate of 918,000. The mark is still up 11 percent over a year ago.
There was good news in permits on single family homes, however. Single-family permits were up 3 percent to a rate of 627,000—the highest since 2008. However, permits for apartments were down 15.7 percent to a rate of 268,000.
Meanwhile, builder confidence in the market dropped following four months of gains to a nearly eight-year high. According to the National Association of Home Builders/Wells Fargo monthly builder sentiment index, builder confidence dropped from a 59 to a 58 in September. Any mark above 50 indicates that builders view the market as good rather than poor.
The NAHB reports that home buyers have begun to show some hesitancy in response to the sharp increase in interest rates and are now waiting to see where rates settle.