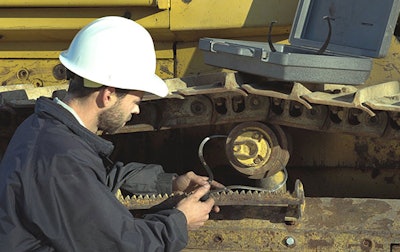 John Deere has expanded its Construction & Forestry Technicians program to an eighth community college. The latest school to include the program is North Dakota State College of Science in Wahpeton.
C&F Tech, as it's called, is a John Deere dealer technician training program and a two-year associate's degree that teaches its students to service, troubleshoot, repair and rebuild diesel equipment.
At each of the eight community colleges across the country, the C&F Tech degree is offered as a partnership between John Deere and a dealer in the area. Students are sponsored by Deere dealers to attend a participating college but also gain knowledge through working at the dealership itself. They graduate with an AAS degree in Diesel Technology or equivalent.
"We invest in technicians because they are the best in the industry and we're excited to work closely with NDSCS to provide successful graduates the opportunity to work at a John Deere dealership," said Jean Zimmerman, the executive vice president of organizational development at Deere dealer RDO Equipment Co.
In addition to C&F Tech, NDSCS also offers the John Deere Ag & Turf Technician program.
A full listing of schools where the C&F Tech program is available is at the left. Click to enlarge.