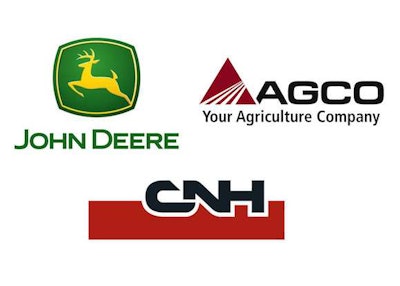 John Deere and Company, CNH America LLC and AGCO Corporation have filed a lawsuit against the state of New Hampshire, saying that a recently passed law that classifies off-road heavy equipment as "motor vehicles" is unconstitutional.
The bill, S.B. 126, was signed into law by Governor Maggie Hassan on June 25, 2013, according to an announcement of the lawsuit by the Association of Equipment Manufacturers. The plaintiffs are expected to ask the state court to issue a preliminary injunction barring enforcement of the law prior to the its September 23, 2013 effective date.
The bill repeals a 1995 law and subjects equipment manufacturers to the state's Motor Vehicle Dealer Law, according to AEM legal counsel George Keeley.
According to the new law the following are now considered motor vehicles: farm and utility tractors, forestry equipment, industrial equipment, construction equipment, farm implements, farm machinery, yard and garden equipment, attachments, accessories and repair parts.
"In other words, there's no difference under NH law between a Buick and a Bulldozer," Keely says in the AEM announcement. Keely adds that New Hampshire is the only state in the U.S. that has made this type of classification.
Deere, CNH and AGCO argue that the law is unconstitutional because it applies retroactively to existing contracts. The lawsuit outlines 11 ways in which the new law will hurt these companies' dealer agreements.
Plaintiffs are not permitted to change a dealer's dealership area without good cause.
Plaintiffs are not allowed to terminate, cancel, or non-renew a dealership agreement without good faith, good cause, and a finding by the New Hampshire Motor Vehicle Industry Board that good cause exists.
Plaintiffs are not permitted to compete with a dealer or to authorize others to compete with the dealer or to add dealerships to an existing dealership area or to relocate an existing dealership without good cause and, if challenged, approval of the New Hampshire Motor Vehicle Board is required.
Plaintiffs are not allowed to terminate a dealer for changing key management personnel, for selling competing products under the dealership's roof, and for refusing to meet the minimum equity level or capital standards set by the plaintiffs.
Plaintiffs have no discretion to require their dealers to maintain a certain level of equity or capital in the dealership.
Plaintiffs have no discretion to control their warranty prices.
Plaintiffs have no discretion to limit within its line make the types of equipment a dealer may purchase for sale.
Arbitration as the sole dispute resolution under some of plaintiffs' dealership agreements is eliminated.
Plaintiffs have no discretion to reject fulfilling orders from a dealer for certain reasons.
Plaintiffs ability to enter into good faith settlement agreements in connection with a dealership agreement is severely curtailed.
Plaintiffs and their dealers may not freely amend their dealership agreements by mutual agreement.
Deere, CNH and AGCO are asking the state court to declare the law unconstitutional.