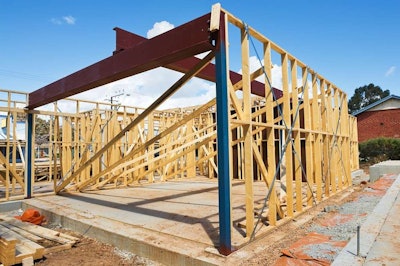 Construction spending in the U.S. rose 0.6 percent in July despite more decreases in government spending, according to preliminary data from the Commerce Department.
Total construction spending rose to $900.8 billion in July thanks to gains in both housing and nonresidential projects. That's the highest spending total since June 2009 and bests the July 2012 total by 5.2 percent.
Total residential spending rose 0.5 percent to $340.6 billion, while total nonresidential rose 0.6 percent to $560.2 billion. The biggest total nonresidential July gains came in lodging, which rose 5.8 percent to $15.2 billion, and sewage and waste disposal which rose 4.6 percent to $21.4 billion.
Private residential construction spending rose 0.6 percent to $334.5 billion while private nonresidential rose 1.3 percent to $296.8 billion. Private lodging was the big nonresidential winner with a 6.1-percent gain to $14.5 billion, followed by manufacturing with a 2.9-percent gain to $46 billion.
Meanwhile, government construction spending fell 0.3 percent. Public housing construction spending fell 3.1 percent to $6 billion in July while nonresidential fell 0.2 percent to $263.3 billion.