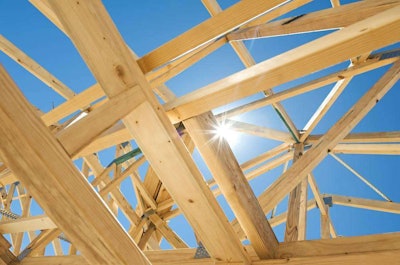 The start of construction on homes fell drastically in April, one month after reaching a level of home starts the country had not seen since before the recession.
However, a surge in building permits hints that the damage might not be too bad.
Construction began on homes at a seasonally adjusted annual rate of 853,000, a sharp drop of 16.5 percent from March's revised rate of 1.02 million, according to U.S. Commerce Department data. Of course it's important to keep things in perspective as the numbers are still a 13.3 percent improvement over the year-ago rate of 754,000.
And just as March's numbers owed much of their momentum to apartments, they carry much of the blame for April's poor showing as well. Multi-family starts fell 37 percent to an annual rate of 234,000.
Single-family home starts fell 2.1 percent to an annual rate of 610,000.
Despite the numbers, there is little debate over the nationwide interest in new homes. Home builders around the country are struggling to meet demand as home buyers find the iron increasingly hotter with mortgage rates and home prices expected to increase in the next year.
Another good sign: builder confidence in the housing market is up 3 points this month, according to the National Association of Home Builders.
And because of those reports, coupled with a 14.3-percent surge in April's annual rate of permits granted, most feel like the housing recovery moving forward isn't in doubt. Building permits were issued at an annual rate of 1.02 million—the most since June 2008 and 35.8 percent higher than in April 2012.
Housing completions were at an annual rate of 689,000 in April. That's a 14.3-percent drop from March and 3.3 percent above the April 2012 rate.