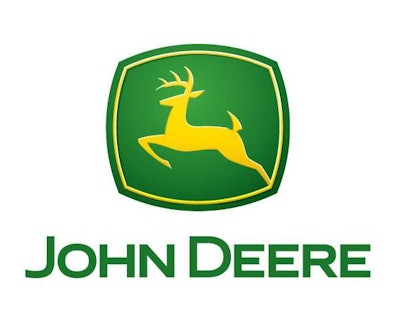 Attributing the news to higher sales of farm equipment, John Deere is reporting its highest ever quarterly net profit of $1.084 billion in the second quarter ending April 30. Compared to the same quarter a year ago, profit was up 2.6 percent from $1.056 billion.
For the first six months of the fiscal year starting in October, Deere has taken in $1.734 billion in profits. That's an improvement of 9 percent over profits at the same six-month mark last year.
Deere's net sales and revenues increased 9 percent in the second quarter to $10.914 billion. At the six-month mark net sales and revenues are at $18.335 billion. Net sales in the second quarter were up 9 percent over a year ago while net sales for the first six months were up 10 percent from a year ago.
"Deere's results are a reflection of positive conditions in the global farm economy, which continues to show impressive strength," Samuel R. Allen, Deere chairman and chief executive officer, said in a prepared statement.
The company's equipment operations reported profits of $953 million in the second quarter and $1.478 billion for the first six months. Those are increases of 0.6 percent and 8.5 percent respectively.
While agriculture and turf equipment brought in operating profit of $1.582 billion for the quarter and $2.347 billion year-to-date, construction and forestry equipment accounted for $81 million and and $153 million respectively.
Construction and forestry equipment was down 6 percent for both the quarter and six-month-mark due to lower shipment volumes, higher production costs and higher research and development costs, Deere says.
Moving forward, the company expects overall equipment sales to increase by about 5 percent for the year and by about 3 percent in the third quarter compared with the same periods a year ago.
The company expects construction and forestry equipment to decrease 5 percent for the year.
And while Deere expects a record year of earnings, the company remains cautious due to "global financial pressures as well as adverse weather patterns."…Cool, wet weather in North America has delayed crop planting, slowed construction activity and hurt sales of turf-care equipment," Allen says.