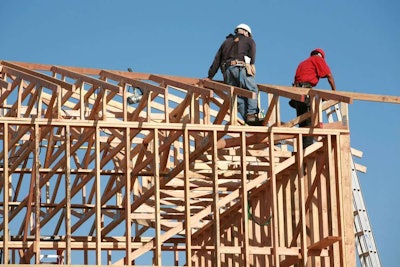 Though the reading is not at a point where more home builders view the current market for newly-built, single-family as "good" than "poor," builder confidence improved three points to a 44 on the May edition of the National Association of Home Builders/Wells Fargo Housing Market Index.
The monthly survey asks home builders to rate current single-family home sales and sales expectations for the next six months as "good," "fair" or "poor." The survey also asks builders to rate traffic of prospective buyers as "high to very high," "average" or "low to very low."
It averages the scores of those responses on a scale where any reading over 50 indicates builder confidence in good market conditions.
All three of the index's components saw gains. Current sales conditions increased four points to 48. Sales expectations was up one point to 53—its highest level since February 2007—while traffic of prospective buyers is up three points to 33.
Last month, the U.S. Commerce Department reported that housing starts jumped 7 percent in March to their highest levels since June 2008.
"Builders are noting an increased sense of urgency among potential buyers as a result of thinning inventories of homes for sale, continuing affordable mortgage rates and strengthening local economies," said NAHB Chairman Rick Judson. "This is definitely an encouraging sign even amidst rising challenges with regard to the cost and availability of building materials, lots and labor."