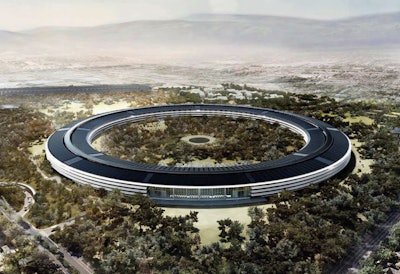 Back in November, it was reported that the completion of Apple's spaceship-like Campus 2 headquarters would be delayed from 2015 to 2016. Now, a report from Bloomberg says that in the meantime, the budget for the project has ballooned from $3 billon to $5 billion.
If you're not well acquainted with this mammoth project, the numbers alone are quite amazing. The project calls for a 2.8 million-square-foot campus that is two-thirds the size of the Pentagon. And it will be set among 176 acres of trees. The kicker: the site today is mostly asphalt.
Right now, Apple is working with lead architect Foster + Partners to bring down the estimated $5 billion cost back in the neighborhood of $4 billion. And even if they bring the price down that much, the campus will still cost more to build than the new $3.9 billion World Trade Center complex being built now in New York City.
In terms of who will be handling the site work, Apple has tapped DPR Construction, out of Redwood City, California and prefabrication specialists Skanska USA Building in New York in a joint venture. Sub-contractors haven't been named but many will start submitting bids in May.
And because the campus calls for so much green space, the Bloomberg report says, "There's so much dirt to be removed, excavating the site will take six months and require a continuous, 24-hour convoy of trucks."
But that's not all. Once the site work is done there's still the challenge of putting this puzzle of a building together. Much of it will be constructed of nearly 4 miles of glass. Some of that glass will be "40-foot, floor-to-ceiling panes of concave glass from Germany."
But the majority of the cost of the campus comes in what the Bloomberg report calls "fit and finish." Before he passed away, former Apple CEO Steve Jobs, who had prior experience with creating buildings of mostly glass with Apple's iconic retail stores, nonetheless hated the seams inherent to to doing so. So, he "insisted that the tiny gaps where walls and other surfaces come together be no more than 1/32 of an inch across, vs. the typical ⅛ inch in most U.S. construction."
And then there's this unbelievable paragraph that really lets you know just how much a challenge these contractors have ahead of them:
"Contractors would typically erect molds with crude scaffolds to pour the cement in place, but that leaves unsightly ruts where the scaffolding puts extra pressure on the surfaces. According to two people who've seen the plans, Apple will instead cast the ceilings in molds on the floor and lift them into place, a far more expensive approach that left one person involved in the project speechless."
In terms of powering this fortress, the roof of Campus 2 will hold 700,000 square feet of solar panels. That's enough to power 4,000 homes and even still, Apple is negotiating contracts for additional solar and wind energy.