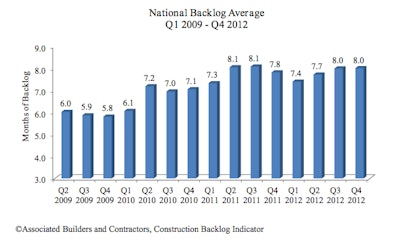 Fiscal cliff fears and constrained project budgets are behind the stall in commercial construction in the fourth quarter of 2012, according to the Associated Builders and Contractors Construction Backlog Indicator.
The CBI is measured in months and reflects the amount of construction work under contract, but not yet completed by nonresidential contractors, according to ABC.
The indicator remained unchanged for the third and fourth quarters in 2012, though it was still up 2.4 percent over Q4 2011. Each of the construction industry's three segments saw increases in construction backlog in 2012.
"However, backlog did not decline, suggesting that nonresidential construction spending is likely to remain flat during the initial months of 2013 and then possibly trend higher during the latter part of the year," said ABC Chief Economist Anirban Basu in a prepared statement.
Basu said automatic sequestration is one of many sources of risk to the nonresidential construction outlook in 2013. The sequester is a set of across-the-board budget cuts scheduled to hit March 1, should Congress not come to an agreement on how reduce the deficit.
The sequester would likely result in pulled federally-funded construction projects, Basu explained. "As the president and Congress struggle to agree on ways to reduce the federal government's large deficits, this debt presents major issues for contractors in the form of higher future interest rates and slower long-term expansion," he said.
According to the Construction Backlog Indicator, backlog rose in the fourth quarter in the Northeast and the South, but slipped in the Middle States and West. The South shows the lengthiest backlog 8.91 months, but has not improved during the past year (8.92 months during the fourth quarter of 2011). The West saw the most significant increase, rising by 1.72 months in 2012.
Last week, FMI released its nonresidential construction index which reported similar findings. The report showed stagnation over the course of 2012 with a mixed outlook for 2013.