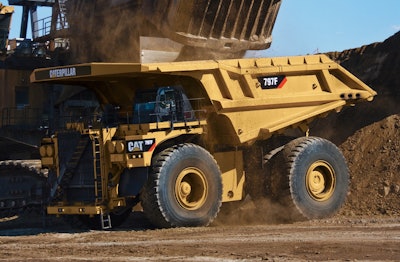 Caterpillar announced Friday that it had uncovered a "deliberate, multi-year, coordinated" accounting scheme at Zhengzhou Siwei Mechanical & Electrical Manufacturing Co., a subsidiary of ERA Mining Machinery Limited which it purchased for $734 million last June.
Cat says it was alerted to irregularities in the Chinese unit's bookkeeping when a review of Siwei's physical inventory count did not jibe with its accounting records. An investigation of the situation revelaed a scheme that involved improper cost allocation that resulted in an inflation of profits.
In response, Cat is taking a non-cash charge of approximately $580 million, or 87 cents per share, in the fourth quarter of 2012. Before the discovery, analysts forecasted Cat would finish the quarter at $1.70 per share.
The company's shares fell 1.5 percent in after hours trading on Friday.
The company's investigation of the scheme is still in progress, but it said that it has not been alerted to any arrests or criminal investigations surrounding the scheme.
Caterpillar has removed several senior managers at Siwei, a manufacturer of roof-support equipment for coal mines, who were found to be responsible for the scheme and has replaced them. The dispatched managers had been engaged in the scheme several years prior to Cat's acquisition, the company says.
Shortly after the initial announcement, Caterpillar said that Luis de Leon, vice president of its Mining Products Division, is "leaving the company to pursue other opportunities." No mention of the Siwei scheme is made in the announcement of de Leon's departure, but the company said his replacement will be named in the near future.
De Leon, previously chief operating officer of Bucyrus International, joined Caterpillar in June 2011 when Caterpillar acquired Bucyrus for $8.8 billion.
Siwei manufacturing operations are now under the direction of Vice President Qihua Chen at Cat's China Operations Division. Sales and support at Siwei will are now under the direction of Kebao Yang, Caterpillar Global Mining General Manager for China and Korea.
"The actions carried out by these individuals are offensive and completely unacceptable. This conduct does not represent, in any way, shape or form, the way Caterpillar does business or how we expect our employees to work, which is spelled out in Caterpillar's Worldwide Code of Conduct," said Caterpillar Chairman and CEO Doug Oberhelman in a prepared statement.
"Accountability is a critical way that we measure leaders at Caterpillar, and it is my expectation that leaders set an example and are accountable for their actions and results."
Just last week, Cat announced the opening of two more facilities in China and the company employs 15,000 people across the country at 23 manufacturing facilities with four more under construction. That's in addition to four R&D centers and three logistics and parts centers.
The company says the discovery at Siwei will not disrupt its strategy to expand even further in the "rapidly growing" region. "China produces and consumes more coal than any other country in the world," the company's statement reads. "Our strategy to expand our coal mining business in China is unchanged, and we are optimistic about the underground coal mining equipment opportunities."