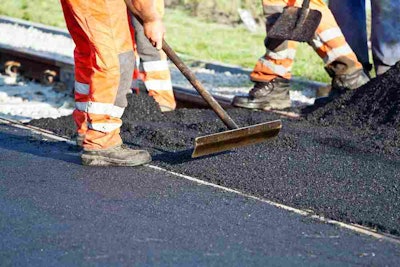 Despite the ongoing economic recovery, the U.S. road construction market is tough going and will only slightly improve in the new year, according to a new report.
SBI, a division of MarketResearch.com, recently released its U.S. Road, Bridge and Tunnel Construction Market report, which predicts "only slight growth through 2014" and a market growth over the next 10 years that will "continue to be lower than the moving 10-year average over the last 90 years."
The report's abstract (the full report can be purchased here) says that overall spending on road, bridge and tunnel construction dropped by 4.4 percent between 2009 and 2011 due to the completion of most American Recovery and Reinvestment projects coupled with the lack of a long-term transportation bill. And that's despite what were strong years for bridge and tunnel construction.
When the tally for last year is made, SBI expects the 2012 road, bridge and tunnel construction market to be up 0.6 percent over 2011 for a total of $76.4 billion.
The research firm expects a small market improvement thanks to the passage of the MAP-21 federal highway bill back in July. Medium-scale projects are likely to be started and funded by many states, but long-term projects are less likely as these states will be forced to use funds to maintain existing infrastructure.