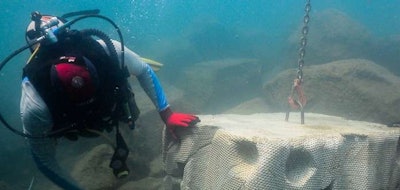 Two women are using their skills to help rebuild the New York metropolitan area since Sandy's path of devastation across the northeastern part of the United States, Forbes reported.
Sandra Wilkin, who works for Bradford Companies, is using technology to coordinate projects in order to increase construction efficiency and decrease its costs. Additionally, she is working to ensure that small businesses have access to the technology they need to recover.
Shimrit Perkol-Finkel, a marine biologist with ECOncrete, is working to use nature to make structures stronger and to reduce wave action on the East Coast. According to the Forbes report, Perkol-Finkel "modified the composition, texture, and design of concrete so that it fosters growth of native flora and fauna while increasing the operational life span and stability of the concrete structure."
This stability can be helped along with marine life such as coral, barnacles and oysters, which can add weight, stability, and longevity to the infrastructure to which they are attached, due to the calcitic skeletons they deposit.