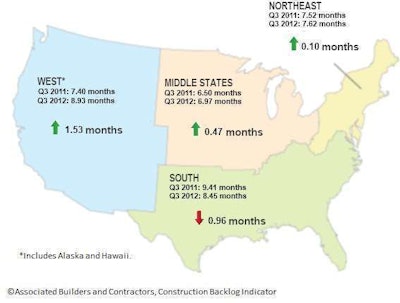 Associated Builders and Contractors (ABC) reports that its Construction Backlog Indicator (CBI) expanded for the second consecutive quarter. In the third quarter, the CBI indicated an 8-month, or 3.5-percent, increase from the second quarter. CBI reflects the amount of construction work under contract but not yet completed.
Anirban Basu, ABC chief economist, predicts the CBI will accelerate by mid-2013, as long as the fiscal cliff doesn't cause an upset in the national economy.
CBI regional trend data indicates expanded construction backlog in the Northeast, Middle States and West regions during the third quarter; they also experienced expanded backlog year-over-year. Meanwhile, the West region experienced the lengthiest backlog, partially due to quick recovery in California, Arizona and Washington. Backlog in the South region has declined for four consecutive quarters.
CBI industry trend data indicates a rise in construction backlog for all three segments during the third quarter other than infrastructure, in which measured backlog is virtually equal to a year ago. Heavy industrial backlog, which is currently at 6.73 months, expanded by four-fifths of a month during the third quarter, the highest it's been since the second quarter of 2010. Commercial and institutional backlog rose for the second consecutive month, due to continued increases in consumer spending and renewed expansion plans from many retailers.
CBI industry company size trend data indicates all company size categories experienced a rise in construction backlog; firms that reported annual revenue between $30 million and $50 million registered a gain of 1.8 months, the largest quarterly gain. Specialty trade contractors with more than $30 million in annual revenues have experienced the most improvement. Firms with less than $30 million in annual revenues are continuing to struggle.
To view ABC's Charts and Graphs PDF, click here.
For more information about CBI, click here.