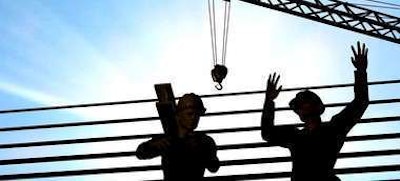 FMI, a management consulting and investment banking provider for the engineering and construction industry, has released its third quarter 2012 Construction Outlook report, which forecasts total construction put-in-place (CPIP) for 2013 to increase by 8 percent.
FMI recently published a report predicting that CPIP would be between $826 billion and $844 billion at the end of 2012. CPIP measures the total dollar value of construction done in the U.S.
The new report for 2013 also anticipates continued growth in residential construction, plus some strength in nonresidential and non-building construction markets. Total CPIP for 2013 is forecasted to be $892 billion with a focus on moving private money into construction markets.
Trends in nonresidential construction in 2012 showed improvement in the market. By September, housing starts had risen to 603,000 units per year, while single-family permits had risen 6.7 percent to 545,000 units per year, the most since July 2008.
In nonresidential construction, renovations will take precedence in the lodging sector. According to the FMI report, hotel developers will be more apt to renovate than build new properties until occupancy and room rates stay at a consistent high, justifying bank loans.
Transportation will remain a strong sector for nonresidential construction. The report shows anticipation for 6-percent CPIP growth in 2013 to a total of $38.2 billion, due partially to the FAA Modernization and Reform Act, which will provide $63.6 billion for the agency's programs between 2012 and 2015.
The report forecasts continued strain on state budgets, making larger highway projects more difficult to begin. FMI forecasts $84.7 billion for highways and streets, which includes the CPIP that will mostly consist of funds from the MAP-21 and TIGER grants.
The report reflects an expectation of a 4 percent increase in the office sector of nonresidential construction's CPIP in 2013, due in part to the United States office sector's absorption of 10.4 million square feet during the first two quarters of 2012.
According to the FMI report, the commercial sector of nonresidential construction will likely experience accommodations for smaller stores, combinations of in-store sales with online sales and an increase in multiuse projects.
Renovation projects in healthcare construction are expected to increase, as are in-room technology and air quality improvements; energy usage will likely decrease. The education sector is expected to receive less state funding for K-12 schools, while the religious sector will likely continue to experience challenges in lending.
FMI expects only 1 percent growth in public safety construction in 2013 to $10.2 billion, despite overcrowding in prisons. The amusement and recreation sector will likely experience little to no growth since funding for sports stadiums will be difficult to acquire.
Communication construction has continued to grow. However, the trending mini cell towers—which use small, easily installed boxes to help maximize spectrum—may slow growth in this sector.
Manufacturing is anticipated to grow due to manufacturing output growth and companies repatriating their manufacturing capacity. Power construction is expected to continue to be a strong sector. FMI notes that United States Army Corps of Engineers has a $7 billion proposal out in locally-generated renewable energy.
FMI expects the sewage and waste disposal sector to do well if municipalities work with private investors, while the water supply sector is expected to struggle with funding. FM reports the water supply sector may have more strength when teaming with industrial projects in the mining sector, power and industrial plants.
The conservation and development sector has seen cutbacks in 2012. The 2012 annual budget for the Department of Agriculture removes funding for the Resource Conservation and Development (RC&D) and Watershed and Flood Prevention Operations programs. New projects will likely come from cleanup for the mining and energy sector.