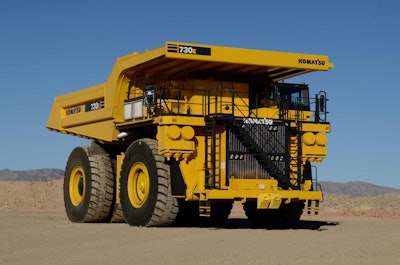 On Monday, Komatsu debuted its new 730E mining truck with the AC electric drive technology the company debuted in 1996. The AC drive 730E is slated for limited release in 2013 followed by full production in 2014.
The announcement came during the first day of MINExpo 2012 Las Vegas which runs through Sept. 26.
Improving on the 730E DC, the 200-ton 730E AC features a 15 percent higher speed than the previous model and a new look thanks to the new frame and axle housing. The new bolt-together design makes for less complicated field assembly and disassembly. Komatsu says it strove to build the 730E AC so that it could be quickly deployed into difficult projects and then moved to the next opportunity as necessary.  
The 730E AC is designed with an easily removable powertrain module,  reducing the time needed for on-site maintenance. Komatsu says the sheer simplicity of the 730E AC design — fewer hoses, bearings, pumps and wear components than many other trucks — makes it easier to train service technicians and complete regular maintenance.
The vehicle is equipped with KOMTRAX Plus telematics technology, which wirelessly sends machine operating information to a secure website. Without any additional IT expense, data such as operating hours, component trends, machine utilization (including idle time and fuel consumption) and production information are relayed to the web application and made available on-line for analysis. In real time, the KOMTRAX Plus® fleet monitoring system monitors machine availability, allows for remote diagnosis of machine issues, and provides a wealth of other information to drive business efficiency.
The 730E AC cab has been outfitted with comforts typically seen in larger trucks. It features standard air-ride seats, an easy-to-use instrument panel with automatic speed control and climate controls. The cab also employs integration with management systems like Modular Mining's Dispatch and MineCare.