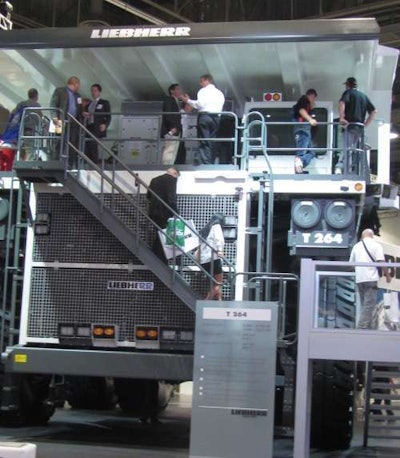 In 2012, said Dr. Wolfgang Zulch, president Liebherr-Mining Equipment, Liebherr will have its highest manufacturing output ever. Further expansions are planned in several company plants, including the one in Newport News, Virginia. Zulch says the company is scaling up to manufacture more than 300 mining excavators and up to 120 large mining trucks per year.
Zulch made this comments at MINExpo today, now taking place in Las Vegas.
Although mining has slowed recently, Liebherr sees a positive long term industry growth, with aging fleets needing to be replaced.
Dr. Jorg Lukowski, executive vice president, Liebherr-Mining Equipment, said the company now has close to 20 percent of the mining excavator market, primarily in the coal, iron ore and gold markets. "We see a higher potential to develop business in North and South America," he said.
Liebherr is introducing the 757-horsepower, 140-ton R9150 mining excavator, with a 10.5 cubic yard bucket that will go on sale in mid 2013. The company is also debuting a company-manufactured ground engaging tool system with three tooth profiles, a self-sharpening design, with a single locking, "truly hammerless" system.
Since the mining boom started in 2004, mining truck deliveries have increased by 175 percent says Bernd Haase, executive vice president of sales and marketing. The company says it now has a 30 percent global market share of the greater-than-327-ton truck market. "The place to be is in the Americas with these ultra class trucks," says Haase.
Liebherr is re-entering the 240-ton market with its 2,400-horsepower T 264 truck, which comes with a choice of a Cummins or MTU engine. The truck's traction control system has four-wheel speed sensing capability that automatically adjusts torque to the rear wheels in order to maximize traction when cornering, accelerating from a standstill or traveling down wet or icy roads. It will be available in 2014.