Brush League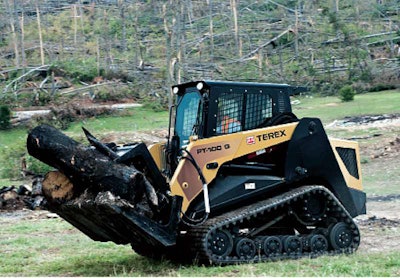 Contractors can maximize their time while clearing land with the proper land clearing attachments 
By Wayne Grayson
Though the economic downturn has restricted contractor spending on attachments, as Terex product manager Jamie Wright says, it's worthwhile for contractors "to be on the watch for new attachments that make their job more efficient."
And with so many uses including vegetation management, landclearing for new housing developments and railroad and highway ditch maintenance, landclearing attachments for compact track loaders are a category especially worth checking out, says Dave Aldrich, light construction dealer development and service manager for Paladin Attachments.
"Using compact equipment with different landclearing attachments can totally revolutionize a construction professional's business, enabling them to bid on larger projects and to work in all weather and ground conditions," Wright says. "By carefully selecting the right attachments, contractors can maximize their profits – the attachments pay for themselves." Here are uses and tips to help you get the most from your compact track loader landclearing attachments:
• A loader and landclearing attachment combination is ideal for site preparation and clearing applications, as well as utility and right-of-way work, brush clearing for fire breaks and fire prevention, says Wright. "Landclearing attachments can offer construction professionals the ability to grapple, shear, hammer, break, crush, cut, compact and scoop up debris on a variety of jobsites," he says.
• "The most important thing to consider when purchasing a land clearing attachment is to find one that matches the requirements of your job and to make sure it is compatible with the power unit you will be attaching it to," Aldrich says.
• Wright adds, "Proper maintenance will significantly extend the life of your equipment, but every contractor knows no machine/attachment can run forever. This is especially true as contractors are opting to run their current equipment fleet longer. Performing routine maintenance can save a contractor a lot of money."
ROUNDUP
BRUSH BUSTER
Clear vegetation, brush and saplings with the Bradco Ground Shark Extreme-Duty Brush Cutter by Paladin with a 72-inch cutting width. The cutter has four 3/4-inch-thick high grade steel blades with alternating bevels that produce axe-like cuts, and a heavy duty retention disc ensures smooth operation. A fully enclosed auto-retractable front shields deflects debris, and a push bar prevents trees from falling back toward the cutter. A direct drive system provides smooth, quiet operation, and the vertical motor has a heavy duty spline shaft for increased performance.
Visit EquipmentWorld.com/info
BY THE ROOT
The Hoelscher HedgeHog attaches to universal Quick-Tach brackets and clears pastures, ditches and shelter belts quickly and permanently. The HedgeHog pulls small trees and brush out by the roots, to prevent regrowth without the need for chains, sawing or chemicals. The attachment allows operators to eliminate hedgerows and eradicate invasive noxious shrubs, weeds and vines without touching them. The HedgeHog also pulls out wooden fence posts up to 8 inches in diameter. With a rugged design and no moving parts, the HedgeHog's beveled tines assure positive lifting action. Multi-width openings provide for infinite diameters of trees or posts, from 1/4 inch to 8 inches.
Visit EquipmentWorld.com/info
CUT AND MULCH
Clear 12-inch-diameter softwoods and up to 10-inch-diameter hardwoods with the Gyro-Track Toma-Ax 500HF Cutter-head. Available for compact track loaders and high-flow skid steers with hydraulic flow rates between 30 to 50 gpm, the 500HF mounds quickly without the need for special hoses or couplings. With Gyro-Trac's Fixed-Tooth Planar-head Cutting technology, the 500HF can cut and completely mulch a tree into fine chips in minutes and grind dozens of stumps to the ground in less than half a day. With a cutting width of 64 inches, the 500HF quickly performs right-of-way maintenance, cuts miles of survey or fence lines and clears acres of small trees.
Visit EquipmentWorld.com/info
CARBIDE CUTTER
Loftenss' new G3 Carbide Cutter mulching head features a two-stage cutting chamber with stationary counter teeth or an optional shear bar and produces fine mulch with a low horsepower requirement. The G3 features a variable displacement motor that automatically shifts from high motor speeds in lighter material to lower rpms at much higher torque levels when needed for larger materials. For slicing through trees and vegetation rather than shredding and tearing, Loftness offers the optional hardened steel Quadco planer blade, featuring a reversible ultra-sharp knife. The planer blade uses less horsepower and the blades can be sharpened on the machine or rotated in the field for a fresh, sharp cutting edge.
Visit EquipmentWorld.com/info
CLAW HOOKS
When used with the Terex PT-100G Forestry compact track loader, the new Terex G-Series mulcher attachment is designed for right-of-way work and vegetation management applications, such as clearing brush, mowing grass and weeds, as well as cutting down and mulching trees up to 8 inches in diameter. Features include the latest power drive systems and cutting tooth technologies. The G-Series mulcher has a line of carbide-tipped, heat-treated steel teeth specifically engineered for mulching. The attachment processes material into a fine mulch, forcing it through both the moving carbide teeth and the stationary counter teeth and back through the carbide teeth and a recutter bar. The high-efficiency piston motor on the G-Series converts the hydraulic output for the loader into more horsepower and less heat. The mulcher's hose routing retainer allows for rull rotation of the head that enables "claw hooks" to reposition trees and branches while the adjustable push bar pushes falling brush and trees away from the power unit and pulls the material into position for proper feeding.
Visit EquipmentWorld.com/info