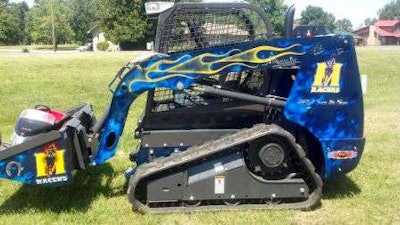 As a proud alum and manager of several construction projects at Murray State University, Dennis Smith, president and founder of Pinnacle Construction in Benton, Kentucky, was looking for a way to show his allegiance to the school. Many businesses simply adopt a nearby school's colors or patch a team logo on their uniforms or shirts to show that special connection. But Smith wanted something more.
So, he commissioned a special paint job for the company's new Case TR270 compact track loader.
 
Murray State Racers logos are featured prominently on the loader frame and bucket, and the CTL really stands out thanks to a multi-tone blue paint job trimmed in yellow flames on the lift arms. The inscription, "Hottest Team in Town," and the autographs of the school's head football and basketball coaches also adorn the machine.
Benton artist Jim Defew, owner of Defew's Custom Painting and Body Shop, designed and applied the artwork to the machine.
"We thought the custom paint job would be a great way to promote our close ties to Murray State," Smith says. "It has caused quite a stir on campus already, and we look forward to loaning the machine to the school for promotional use at football games and other high-profile events on campus, including fundraisers."