Somebody's got to say it, and I guess it's going to be me: Americans can't drive worth a darn.
You and I both know it's true, and I'll admit straightaway that it's a hard pill for many of us to swallow. After all, Americans may not have invented the automobile, but we certainly took the ball and ran with it once we got the basic concept. More than 100 years later, there still is no more car-crazy culture on this planet than the United States.
And you'd think that a nation as in love with cars, trucks and motorcycles as the United States eventually would produce a generation of motorists that could – you know – actually operate a motorized vehicle in a safe and efficient way while sharing a road with other like-minded automotive enthusiasts.
But that's not the way it is at all. That fact was driven home to me recently when I had to drive to a trade show with two of my colleagues from Randall-Reilly's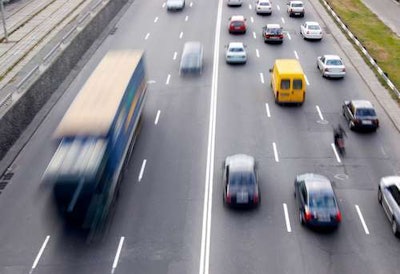 offices in Tuscaloosa, Ala., to Louisville, Ky.
Our drive to Louisville on a quiet Tuesday morning was uneventful: We jumped on Interstate 20/59 in Tuscaloosa, picked up I-65 in Birmingham and made the run north in six hours. The weather was clear. Traffic was light. It was such a low-stress drive all the way around that one of my coworkers stayed behind the wheel the whole trip.
The story on our return trip three days later – on a Friday – was completely different. For starters, the weather was bad: Wind and patchy rain ranging from a light drizzle to torrential downpours had slowed traffic on the steaming slick roads to a jittery crawl.
To make matters worse, the roads were crammed with spring breakers – minivans with cargo carriers on the roof and countless cars bedecked with rear-window stickers proudly proclaiming schools like Notre Dame, Purdue, Louisville and Wisconsin – all headed south on I-65 and not stopping until they hit the Gulf of Mexico.
It was, in a word, insanity. The weather, the amount of traffic and the constant weaving in and out of lanes were bad enough. Now all we needed were a few wrecks and some construction work, and we'd be in business – and, oh boy, did we get those in spades.
All told, we ended up stewing in parking lot-style traffic for more than two hours during the drive as a consequence of five separate – and major – accidents. We were forced off the interstate twice – pulling the smartphones out and trying to navigate the backroads around the congestion.
And we almost saw a sixth wreck happen right before our eyes south of Birmingham when an 18-wheeler (I'll spare mentioning the fleet) suddenly swerved violently, left his lane and almost clipped a passenger car in the far right lane before panic-recovering – almost toppling the rig in the process. The driver was on his cell phone when we passed by.
It was more than 9 hours before we finally made it back to Tuscaloosa – exhausted, with our nerves shot. And this is the kind of madness your drivers have to deal with every single day. How they cope, I'll never know.
The general consensus these days among trucking industry professionals is that federally-mandated safety systems such as active cruise control, lane departure warning systems and blind-spot radar detection systems are just a matter of time. But while everyone wants to be safer, there's the real issue of cost: New truck prices are skyrocketing, and that's becoming a big concern for fleets nationwide.
However, the bulk of the craziness my colleagues and I witnessed on our drive home from Kentucky was the fault of passenger car drivers. We passed three of the five accidents on the highway that day, and no trucks were involved; since we bypassed the other two accidents, I can't speak for those.
But the whole experience left me with a vivid impression: We need better, more comprehensive and nationally-integrated driver training in this country. Each year, our roads grow more and more congested, with more cars traveling closely together at higher rates of speed. But most driver education programs are stuck solidly in the 1960s or '70s. My own high school showed us driver education films made in the 1950s – 30 years out of date by the time we were viewing them.
Each year, more and more demands are made on our industry to improve safety – often exacting a hard hit on fleets' bottom lines. But when is the rest of the country going to join trucking in putting more competent – and safer – drivers on the road? It needs to happen soon. Because it's a jungle out there. And your poor drivers have to deal with it every single day.
JACK ROBERTS is Executive Editor of Commercial Carrier Journal. E-mail jroberts@ccjmagazine.com or call (205) 248-1358.