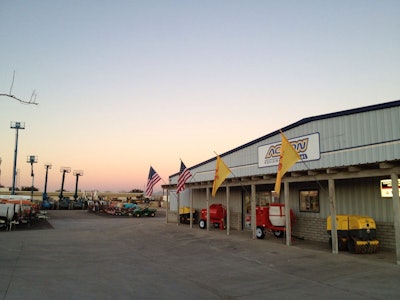 Volvo Rents has expanded in New Mexico with its acquisition of Action Equipment Rental, a three-location construction equipment rental company with stores in Alamogordo, Las Cruces and Silver City.
Through such acquisitions, Volvo Rents has added 49 stores in the past 18 months and now has 120 outlets in North America, including four in New Mexico. The company's other New Mexico store is located in Peralta.
The acquisition comes following a recent forecast released by the American Rental Association (ARA) expecting overall North American equipment rental industry revenue to increase at least 6.9 percent in 2012 to total $33.5 billion at year end. The ARA's five-year forecast calls for continued annual growth in rental revenue to reach a total of $53.1 billion by 2016.
"While some of the expected rental revenue growth will come from increased demand as the construction industry recovers, the benefits of renting equipment have been magnified in today's marketplace, resulting in more attention and more customers adopting the rental concept to meet their needs for equipment to complete projects and jobs," Mike Crouch, vice president of business development for Volvo Rents, said in a press release.
In addition to Volvo Rents' expanding line of Volvo compact equipment – such as backhoe and skid steer loaders, compact wheel loaders, compact excavators and compaction equipment – the rental centers carry a comprehensive line of essential equipment and tools for the construction, commercial, industrial and homeowner markets. The focus is on daily, weekly and monthly rentals.
Action Equipment Rental was founded in 2005. Its founder, Joseph Muench, will remain with Volvo Rents as a consultant.
"Of all the consolidators that approached us over the last couple of years, none of them possessed a culture and core value that lined up with ours. That is until we were contacted by Volvo Rents," said Muench. "Volvo Rents' well-established reputation as a service oriented company dedicated to servicing the homeowner and contractor alike run parallel with our existing business model and made becoming part of the company an attractive and easy decision. I am confident that both our employees and customers are in great hands."