Calling on Construction
Established and new players alike take aim at the vocational truck market.
By Mike Anderson
While there may be a new brand in the heavy-duty construction truck business, established players are intent on keeping their strong positions in the vocational market, currently about one-third of all Class 8 trucks made.
All have introduced product enhancements (see Machine Matters Roundup, starting on page 26); some of them rolling out new models altogether. Western Star has multiple versions of a new construction and municipal truck model, the 4700, as well as an additional new model designation to more clearly define the former shortened version of the 4900. Mack has a lighter version of its Granite truck aimed at municipal and lighter vocational users, who will also consider Kenworth's up-shifting of the T370 medium-duty truck to a "Baby 8" vehicle. On the severe-duty end, Freightliner has two new models, including a tri-axle. Peterbilt, Volvo and Navistar International continue to counter with options galore.
And while the new player, Caterpillar, is not exactly new to the truck market, having supplied truck engines for 40 years, it does think it has an advantage in this market: the company believes the "yellow iron" customer is the Caterpillar customer.
"We're focusing not just on a truck, but on the application of that truck in the construction business," says George Taylor, director, Caterpillar Global On-Highway Truck Group. "How does it work with load-and-haul? How does it work with the fill operations? How does it interact with the construction machines?
"We know our customers don't use that truck by itself. At some point, the truck's interacting with that excavator, that wheel loader, that paver," says Taylor, "and customers have told us that's that one of the weak points (in their business), and if you can find a way to optimize the way those things work together, we're going to be miles ahead."
Ready to roll
While hosting a trade press ride-and-drive event in late September in Peoria, Illinois, Taylor and fellow Caterpillar Vocational Trucks officials made no bones about their target audience.
PACCAR brands Peterbilt and Kenworth, along with venerable Mack now owned by Volvo, collectively have 80-percent vocational market share in North America, they say, and the Caterpillar goal is to be the number-one or number-two player in five years by offering a premium-quality product. The process began in 2007 as Cat observed the rapid vertical integration of truck manufacturers and decided to exit the truck engine market as a supplier for other manufacturers.
Then it set its sights on creating a truck that would appeal to its core base: construction. Partnering with Navistar to create the CT660, Caterpillar was aware that some construction customers joke that trucks are a necessary evil; others take a lot of pride in their trucks, says Gary Blood, product manager.
The inaugural CT660 set-back-axle model now in production at partner Navistar's plant in Garland, Texas, was developed under a Caterpillar standard: "How can we design that truck so that in the 10th year or beyond, the customer can still be proud of how that truck looks?" Blood says.
Automatic adoption
For vocational applications, the CT660's CX31 automatic transmission option allows drivers starting out on an 18-percent grade with 80,000 pounds of weight to have full engine torque, full boost, and full power shift into second gear and beyond, says Steve Rutherford, Cat Powertrain marketing manager. Compared to other automatics on the market, the CX31 offers fuel savings by up to 8.5 percent, he says. Versus manual transmissions, it narrows the gap between drivers of varying experience.
"Customers are telling us it opens the gamut to a broader set of drivers in an environment where getting drivers is difficult," says Taylor, noting the order rate on trucks with automatic transmissions is running at 40 percent, compared to 5 percent in the late 1990s. In addition to the standard manual, Caterpillar offers the UltraShift Plus vocational transmissions built by Eaton. "Anyone could pull that truck out with an automatic," Taylor says, "and we've had customers talk to us about how critical that is."
Beyond the Navistar-made Cat CT11 and CT13 engines now available, a 15-liter CT15 will be available for the CT660 in 2012, boosting engine output to the 550-horsepower range from the current maximum 475. The same engine options will be available on the set-forward-axle CT680 truck model, due out in first-quarter 2013 with the same choice of 116- and 122-inch bumper-to-back-of-cab configurations available on the set-back-axle CT660.
MACHINE MATTERS ROUNDUP
Western Star
A new model aimed specifically at the construction and municipal segments, the 4700 is available in set back (SB) and set forward (SF) front axle configurations and, says Western Star, is the first Class 8 truck to meet a 3.2-million resisting bending moment (RBM) rating with a single channel frame. This is a key accomplishment for Western Star customers requiring high RBM yet concerned about corrosion between the frame rails of a double-channel frame, says the Daimler Trucks-owned company, which hosted a symposium of stakeholders early in the 4700's development. At 110 inches, the 4700's bumper-to-back-of-cab (BBC) measurement is the shortest in its market. For outfitting the new model for vocational applications, body builders are provided a factory-installed path to run wiring harnesses, courtesy an in-cab wiring raceway and body builder interface box. An access hole in the rear floor of the cab is provided, too. Also new from Western Star, the former 109-inch-BBC 4900 model is now the 4800, available in stout SB, SF and twin steer (TS) configurations. The 4900 is available in 123-inch-BBC SB, SF, TS and extreme duty (XD) configurations, as well as a 132-inch extended hood (EX) version. The 141-inch-BBC heavy-haul 6900 comes in TS and XD configurations. For product info, visit: westernstartrucks.com/Trucks/4700/
Caterpillar
The product line's first model, the set-back-axle CT660 model is available in 116- and 122-inch BBC versions. Using the advanced exhaust gas recirculation technology of truck manufacturing partner Navistar, Caterpillar's initial power options are the CT11 engine rated 330 to 390 horsepower and the CT13 rated 410 to 475 horsepower. A 15-liter CT15 engine option, offering 435 to 550 horsepower, will be available next year. An aluminum-alloy cab provides longer life and less weight than conventional steel cabs, and an aerodynamically sloped hood both decreases wind drag and increases visibility for the driver. Inside the premium cab, the gauges of the dash and center stack are viewable through the steering wheel. Product Link remote monitoring, featuring the intuitive web-based VisionLink user interface, is provided free for three years. The CT660 has a three-piece bumper, Metton hood, flexible fender extensions, impact-resistant headlight covers and an all-metal grille. Inside the daycab, designed by Caterpillar's industrial design team with premium automotive-level componentry and features, noise is reduced 30 percent thanks to a compacted graphite engine block. For product info, visit: drivecat.com
Peterbilt
Six different models, four of which offer environmentally-friendly alternative power or fuel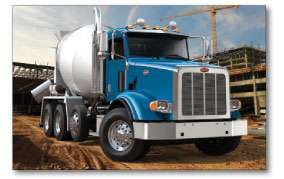 options, comprise the extensive line of Class 8 trucks from PACCAR's Peterbilt company. At a 55.7-inch BBC, the Model 320 is available in traditional, diesel-hydraulic hybrid or alternative fuel (either compressed or liquefied natural gas) versions. Two new steering gear options from Sheppard offer 10-percent wheel cut improvement, decreased turning radius and enhanced serviceability, Peterbilt says of the 320, which is popular with concrete pumper customers. The Model 348, with a 108-inch BBC, comes in a conventional or diesel-electric hybrid version, and has expanded its powertrain options to include all-wheel-drive capabilities with the PACCAR PX-8 engine rated at 350 horsepower. At 115 and 123 inches, the Models 365 and 367 have alternative fuel options in addition to traditional PACCAR or Cummins engine options. The 365 is now available with Fuller's Vocational Construction Series and Vocational Multipurpose Series automated transmissions. The 18-speed Fuller UltraShift transmission on the extreme-duty 367 and 388 models offers a choice of Vocational and Multipurpose Extreme Performance versions. The Model 382, with its 110-inch BBC, is available in tractor and truck configurations for municipal specifications in assorted applications. For product info, visit: peterbilt.com/showroom.aspx
Mack
Expanding its signature vocational truck offering, Mack this year introduced new products reflective of the economic times. Medium heavy duty (MHD) versions of the Granite truck,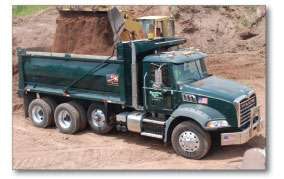 available in axle-forward and axle-back configurations, are designed to meet the needs of municipalities and other customers for whom a lighter 6×4 spec is sufficient. "In the current environment, companies are taking an ever harder look at how much truck they truly need," says Curtis Dorwart, Mack vocational products marketing manager. At the same time, "we've seen a considerable increase in the number of vocational customers expanding their operations beyond regional sites," and facing hours-of-service issues. As such, the heavy-duty Mack Granite axle-forward and axle-back truck models are now available with an optional 36-inch flat-top sleeper compartment equipped with a curtain, bunk restraint and 30-by-80-inch mattress. Mack also introduced a Granite twin-steer package, available in both axle-forward and axle-back packages with vertical back-of-cab aftertreatment. Additionally, the company's vocational trucks now have Body Link III, designed with input from leading body builders, featuring an under-cab 29-pin connection, cab pass-through boot and assignable in-cab switches. For product info, visit: mackgranite.com
Freightliner
Introduced first as a rear discharge mixer platform at World of Concrete, then for dump, crane, plow and other construction and municipal applications at CONEXPO-CON/AGG, the 114SD is one of two new Severe Duty models from Daimler's Freightliner Trucks. Now in full production, the 114-inch-BBC model is available in either a set-forward-axle configuration with a standard 31-inch front axle position and optional 29.5-inch bridge formula or a set-back-axle configuration with a standard 48-inch axle position. Front axle ratings are available up to 23,000 pounds; heavy-duty rear axle configurations range from 38,000 pounds for single up to 69,000 pounds for tridem configurations. Specific to the municipal market, the Cummins ISLG natural gas engine is available for the set-back-axle version of the 114SD. To start production in December, the 108-inch-BBC Freightliner 108SD has a 42-inch set-back-axle configuration with ratings up to 20,000 pounds in the front and, for the tandem option, up to 46,000 pounds in the rear. An SD version of Freightliner's flagship Coronado is also available. With SD trucks, a variety of fuel and DEF tank configurations are combined with under-cab aftertreatment systems and battery boxes for efficient body installations. A multiplex electrical system simplifies chassis-to-body electrical integration. For product info, visit: freightlinertrucks.com/trucks/find-by-use/construction/default.aspx
Kenworth
With the introduction this year of a 6×6 configuration, Kenworth is moving the T370 medium-duty truck model into "Baby 8" territory. "This new offering will benefit operators running utility service, construction, oilfield service and boom trucks, in addition to municipal applications," says Preston Feight, Kenworth chief engineer. "Customers get a great medium-duty truck for applications which require a heavier front axle and tandem rear axle to get the job done." Front axle ratings range up to 16,000 pounds; the rear tandem rates at 40,000 pounds. Initially, the Chalmers 854-40 suspension was offered, followed by an option for the Hendrickson PRIMAAX EX rear air suspension. Customers can choose between the PACCAR PX-6 and PX-8 engines. The Kenworth heavy-duty construction lineup also includes the T440, T470, W900, C500 and T800 models, the latter recognized in March for 25 years on the market. At the time, PACCAR's Kenworth had already produced more than 235,000 T800s for both line-haul and vocational service in the United States and Canada. The model remains the company's top seller for mixers, dump trucks and snowplows. With all Kenworth diesel-electric hybrids and Class 5-8 trucks with premium interior trim offerings, the NavPlus navigation and business technology system is standard; on all others, it is an optional upgrade. For product info, visit: kenworth.com/2600_voc.asp
Volvo
The VHD – Vocational Heavy Duty – series of trucks combines a 50-degree wheel cut and set-back-axle configuration to deliver a turning radius among the tightest in the industry, says Volvo Trucks. Further suited for city traffic and construction sites, a clean back-of-cab allows a closer body fit for better weight transfer to the front axle. The VHD suspension system, the standard Volvo T-Ride, features trunnion-mounted springs and rubber towers for traction and articulation in off-road conditions. At a standard 113.6-inch BBC, VHD cabs boast extra space for tools and personal gear, an advanced climate control system and, creating an environment as quiet as passenger cars, superior insulation and soundproofing. Double-sealed cab doors keep out water, wind and noise, and an air filtration system keeps the space free of dust and pollen. On the dash, a centrally-positioned screen displays key diagnostic information. Controls are within the driver's easy reach, including often-used switches on the steering wheel. A panoramic one-piece windshield and sloped side windows enhance the view to the road or surrounding jobsite. A sleeper-equipped model, the 145.5-inch-BBC VHD 430, is available. In response to 13-liter engines becoming the number-one choice of Class 8 truck customers in the United States, Volvo announced in October its engines are the top sellers in the class. For product info, visit: volvotrucks.com/trucks/na/en-us/products/vhd_series/Pages/vhd.aspx
International
For severe-duty applications requiring up to 550 horsepower, PayStar trucks from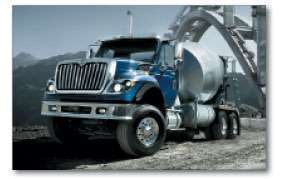 Navistar's International brand are built with an extra-strong single-frame rail, cross-members and the strongest Huck-bolted chassis components. PayStar trucks boast resisting bending moment (RBM) ratings as high as 4.87 million, for a maximum strength-to-weight ratio particularly suited to hauling rocks or logs. Up to 475 horsepower for vocational applications, severe-duty WorkStar models continue to offer an above-frame-rail-mounted radiator providing increased protection, integral front frame extensions and uninterrupted access to install a front engine power take-off. In September, Navistar International and Caterpillar announced the next stage in a relationship to develop, manufacture, sell and support vocational and on-highway trucks. The companies will restructure their international 50-50 joint venture, NC2, to become a wholly-owned subsidiary of Navistar. The joint venture is focused on markets outside North America; the companies also have an agreement under which Navistar manufactures Caterpillar's heavy-duty vocational trucks for North America. Under the new brand licensing agreement, both International and Caterpillar branded trucks will continue to be distributed through their respective dealer networks outside of the United States. For product info, visit: internationaltrucks.com/Trucks/