Paul Franks
Brecksville, Ohio
Leading his team onto the field of play is Ohio contractor's true calling
Sports Construction Group
Number of employees: 50
Annual volume: $14-15 million
Markets served: Athletic field site prep, installation and maintenance.
By Mike Anderson
As a sports dad, Paul Franks always watched with immense pride when his boys Chris and Scott took to the field. As a contractor, he has a similar feeling when he flips on the TV.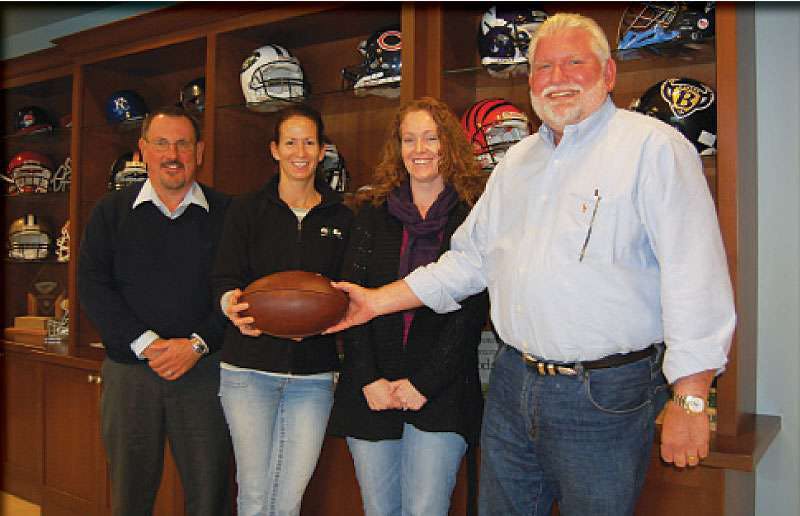 "Two years ago, every single inning in the World Series was played on one of our fields. That's pretty cool," Franks says.
Franks has piloted a family legacy in heavy highway construction into a niche business focused on site prep, installation and maintenance for athletic fields. The facilities his Sports Construction Group (SCG) crews have worked would populate any sports junkie's proverbial bucket list of places to visit: Yankee Stadium, both old and new; side-by-side football and baseball stadiums in Kansas City, Pittsburgh and Franks' hometown of Cleveland; baseball parks in Philadelphia and Queens; and football stadiums in Nashville and the University of Notre Dame. Having his team overcome each high-profile job's assorted challenges brings a smile to Franks' face every time he settles in front of the screen and sees a smooth play made on a familiar field. He's just as proud, however, of the various minor pro, small college and high school baseball, football, field hockey, track, soccer and lacrosse facilities his company has built across the country.
One such field – located only about a mile away from the SCG office in the historic Cleveland-area community of Brecksville, Ohio – has particular significance. When the company consolidated its operations in Brecksville, SCG partnered with the city to build a synthetic soccer and lacrosse field at the Blossom Hill recreational area. The field now serves as both a community facility and a company marketing tool.
Heavy roots
Learning the ropes from the bottom up, Franks joined his father's heavy highway construction firm, S.W. Franks Construction, as a laborer and machine operator, eventually becoming a partner. In the
early '90s, the company won the job for Cleveland's new baseball park, then called Jacobs Field. Franks then realized he was drawn to the sporting sector, which he found to be more personal than the "very tough" world of heavy highway.
In preparation for the stadium job, Franks traveled to Durham, North Carolina, to see a minor pro field being built. He couldn't believe what he saw. "It just wasn't efficient," he recalls of the small agricultural tractors used. The company's heavy highway background then came in handy – S.W. Franks had been an early adopter of laser technology, and now Trimble's Spectra Precision technology helps guide SCG's Caterpillar earthmoving and Vermeer trenching equipment.
So SCG's crew tackled the Jacobs Field job with a Caterpillar 325 excavator, a pair of D6 crawler dozers and a fleet of trucks, moving 20,000 tons of material through a stadium door. "We just got at it," says Franks. "It looks like it's a real big space when you're in the bleachers, but when you're down on the field, it's not." The work impressed the Jacobs Field architect HOK, leading to an ongoing relationship, and SCG's crews began to do athletic facility projects throughout the country.
SCG uses a basic eight-man crew that does everything, from pouring concrete installing irrigation, stone and pipe, to laying the turf. "These guys get it," Franks says. "It's not their first rodeo."
Team first
Visitors to the SCG office are welcomed in a foyer that resembles a high-end sport fan's hobby room, decked out with memorabilia that includes polished locker room stalls.
Al Ewing, chief operating officer, oversees all civil construction and deals directly with job superintendents and their crews; George Pfeffer, executive vice president, directs estimating and job management, working closely with Julie Cipolla, vice president and Matt Rinas, senior project, manager/estimator.
Pfeffer and Ewing say it all begins with Franks. "He never treats us as if we're not anything but like partners," says Pfeffer. "It's just a great dynamic that he's set up here. If we have problems, we work through it."
With all company leaders at the table knowing what's going on with all facets of projects, "we learn from our mistakes," explains Ewing. "If somebody has a problem, we hash it out. "We're all good friends besides being co-workers."
Sums up Franks: "Never feel like if you make a mistake you have to hide from it. You've got to be open, collectively find a way to solve it and move forward."
Hanging tough
During the past few years, contractors have faced more than their fair share of business challenges. SCG has been no different. "There was a huge drop in the collegiate and high school level," says Franks. "But I feel we're coming out of it now." As a positive indicator, SCG had its busiest bidding season ever.
"Coming out of a tough recession is the one time when everybody's got the opportunity to take it to another level," says Franks, who acquired the 6-acre facility in Brecksville with an eye to expanding into manufacturing of a yet-undetermined turf product.
"If you run your business believing in yourself and with the confidence of having gone through things before, you're going to get through it," Franks says. "Tough times just make you a little bit better the next time around. We certainly learned how to dial things back, prioritize and focus on what's going to take us to the next step."
Tough times? How about having your parent company go belly-up? S.W. Franks was sold in 1998, but Paul and his team remained on board and kept the division profitable. Still, the parent company went bankrupt.
"The day that happened, I went to the team and said, 'I'm going to just start right back up. You guys are more than welcome to come on board.' We basically started back up the next day." SCG was formally born, and the new company immediately completed the Philadelphia Phillies stadium job its crew had already started.
For those starting into construction, Franks' advice focuses on humility. "Go slow, think smart and don't have an ego." Thinking you have to be bigger than and own more than the next guy is a recipe for failure," he says. "When you're managing something that is risky, one bad move can cost you a lot, so never feel invincible. You might be able to get through some really difficult things, but just because you did it doesn't mean you always will. So, step lightly.
"It's like a sports team," he says. "The success comes from everybody working together."
PRODUCTION SOD LAYING
Installing athletic fields sometimes requires a more delicate touch than a crawler dozer or excavator can deliver.
This led SCG's crew to modify a compact wheel loader for production sod laying. Replacing the front loader linkage with a large sod roller and putting on large tires that are kinder to turf, SCG created a machine that doesn't displace any of the subgrade it's running on. Paul Franks credits "our guys collectively" for coming up with the idea as an alternative to a slower tow-behind roller.
"When you're on sand and you're laying sod, the loader doesn't displace the sand, and it can roll right on top of the sod without squishing it down," Franks explains.

Go to www.equipmentworld.com/digital or use your smartphone to scan this tag to view a video of what advice Franks would give to contractors just starting out. (Download a free app from http://gettag.mobi and point your phone at the square to scan the tag.)