Pillars of success
Atlas Copco's Portable Energy division branches into new areas
By Amy Materson
Atlas Copco's new Portable Energy division used a customer event in Panama to launch two new Tier 4 Interim products – the XAS 750 JD7 compressor and the U.S.-made QAS line of generators:
XAS 750 JD7 compressor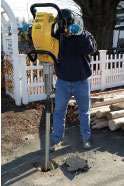 The Tier 4 Interim (also called Tier 4a) rotary screw portable compressor, designed for heavy-duty construction applications, generates 750 cfm of free air delivery and 100 psi. The unit has a 16.7-gallon air receiver capacity, and the air end requires less horsepower for improved fuel efficiency. The XAS 750 JD7 is powered by a 200-horsepower John Deere six-cylinder diesel engine with fuel consumption of 8.2 gallons per hour at 100-percent load, a significant improvement over previous models. The engine is housed in a canopy and frame engine specially designed to enable the XAS 750 JD7 to have a similar footprint as earlier models.
QAS generators
The QAS line of Tier 4 Interim generators above 150 kVA is manufactured at the company's Rock Hill, South Carolina, facility. The QAS line includes the 150 JD T4a, the 250 JD T4a and the 330 JD T4a, all powered by a John Deere engine with variable geometry turbocharger technology. The generators offer a 24-hour run time at full load, have noise levels of 73 decibels or less and include a standard multi-voltage selector switch.
Atlas Copco Reorganizes
Atlas Copco's Portable Energy division – formerly Portable Air – will focus on more than just compressors, according to Geert Follens, division president. Portable Energy is now part of Atlas Copco's Construction Technique business area and is divided into what the company calls "pillars": air, power, light, water and used equipment. The water and used equipment pillars are new to the company and are part of an overall strategy to widen the company's product portfolio, said Follens. "We already provide extremely reliable products to our customers. Now we are establishing ourselves as a total solution provider," he said.
The used equipment segment, which kicked off with the opening of a refurbishing center in Warsaw, Poland, is undergoing a global roll-out. Sam Waes, product manager, used equipment, says the equipment that goes through the program will be either given a productive extra life or disposed of responsibly. Customers will be able to take advantage of the program in two ways – either as part of a buy-back agreement during new equipment purchases or on an ad hoc basis. "Customers should be able to get a quote on their equipment in 48 hours," Waes said. Follens says the company wants to be involved in every phase of their machines' life cycle.