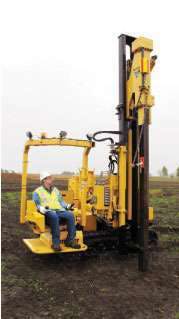 Let the Sun Shine
Vermeer unveiled a prototype designed to add efficiency to the exacting demands of solar panel installations. The PD10 pile driver, expected to be in production in 2012, uses an inclinometer with auto-plumb and laser-controlled post depth control to ensure that solar panel posts meet specifications. Controls can either be run from the cab or by using a remote control. The mast moves forward and backward, and side to side for exact positioning.
Why a purpose-built machine?
Most ground-mounted solar power systems consist of solar panels held in place by racks or frames attached to ground-based mounting supports. These pole mounts – similar to steel posts – are anywhere from 7- to 18-plus feet long and generally driven directly into the ground. Pole mounts need to be driven into the ground to precise levels depending on soil type and stability, weather conditions and type of panel
(either fixed or tracking). Large solar farms may have as many as three million posts. Other techniques used to install these posts include truck-mounted or excavator-mounted pile drivers.
For a video on how this product works, point your smart phone at the tag.
Visit EquipmentWorld.com/info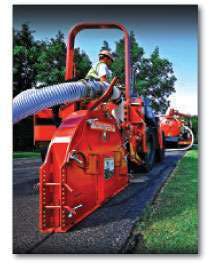 Fiber Optic Quick Cut
Ditch Witch continues to make enhancements on its MT12 MicroTrencher, designed to quickly and cleanly slice through asphalt to create fiber-optic cable trenches. Using specially designed and manufactured saw blades, the Ditch Witch MT12 cuts a 0.75-inch to 1.25-inch-wide trench up to 12 inches deep in one pass. The shallow trench gives contractors the ability to install cable above existing utilities. The trenching depth is mechanically adjustable, allowing you to set the depth to match job specifications. It can also be manually tilted 6 degrees left or right, helping maintain a true vertical trench on uneven surfaces. With the ability to hydraulically transverse 24 inches from the center of the machine to the right, the MT12 can cut a trench right next to or parallel to curbs and gutters. The unit can either be equipped with onboard chutes that deposit spoils along side of the trench or with one of three vacuum excavation systems that have a cyclonic separator plus a filtration system designed to handle the dry, dusty spoils of micro trenching.
Visit EquipmentWorld.com/info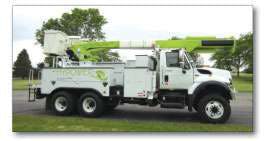 LOW PROFILE AERIAL
Avoid overhead clearance problems with Terex Utilities' SCM Series Hi-Ranger aerial devices, which allows for low platform stowing near the centerline of the truck. The series, which includes the SCM48, SCM50 and SCM55, has Terex's Tri-Link elbow design for easy access to bushings and bearings with no lift chains or cables. Each model has a gross vehicle weight rating of 31,000 pounds and has a side mount, one-person 700-pound capacity platform, Control Plus 3-D single-stick controls, 200 degrees of upper boom articulation, 110-degrees of lower boom articulation, full-pressure open center hydraulic system and a non-compensated boom design.
SCM Series specs:
SCM48: 48-foot bottom of platform height; 53-foot working height; 39.3-foot overcenter side reach; 34.8-foot non-overcenter side reach (at 110 degrees)
SCM50: 50-foot bottom of platform height; 55-foot working height; 41.2-foot overcenter side reach; 36.2-foot non-overcenter side reach (at 110 degrees)
SCM55: 55-foot bottom of platform height; 60-foot working height; 46.1-foot overcenter side reach; 39.5-foot non-overcenter side reach (at 110 degrees)
Visit EquipmentWorld.com/info
LOW CLEARANCE TRANSPORT
Easily transport low clearance machines such as directional drills with Felling Trailers' FT-24 I trailer, which features a new 12,000-pound No.14 Torflex axle Dexter Axle, available in five different degree settings. The axle's independent suspension with rubber ride eliminates steel-on-steel contact, and there are no hangers, springs or shackle bolts to wear out. The axle tube can also be used as a supporting cross member. The FT-24 I has a 24,000-pound load capacity, two 12,000-pound axles, a 12,000-pound drop leg jack and DOT-approved LED lighting with a sealed wiring harness.
Visit EquipmentWorld.com/info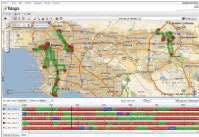 CUSTOMIZE FLEET SOFTWARE
Experience expanded functionality Telogis' Fleet 9, the company's next generation scalable fleet management software. Fleet 9 offers users the ability to tailor the system to their specific needs with customizable reporting and alert capabilities, and the software integrates with Telogis' existing products, such as Route, Progression and Mobile, delivering routing, real-time work order management, telematics and mobile integration on one Software-as-a-Service platform. Fleet 9 also includes Ad Hoc Reporting for specific reports, a Terminology Module that allows the user to match their internal nomenclature and the InSight Alert engine that enables users to define alerts based on any parameters.
Visit EquipmentWorld.com/info
AVAILABLE IN 2012
Iowa Mold Tooling's new air compressors include two rotary screw models – the CAS45R and CAS60R – and the CAS40 reciprocating model. The CAS45R delivers 45 cfm at 150 psi and the CAS60R provides 60 cfm at 150 psi and the CAS40P is a 40-cfm, 100-psi unit. Both of the rotary screw compressors are hydraulically driven, continuous-duty compressors suitable for heavy use, and feature a hydraulic aftercooler integrated into the compressor design. The two-stage, four-cylinder reciprocating compressor handles lighter applications. All three models will be available beginning in January.
Visit EquipmentWorld.com/info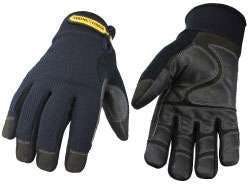 DRY HANDS
Protect your hands this winter with Youngstown Glove's Waterproof Winter Plus gloves. Blocking out wind, water and cold, these gloves are lined with micro-fleece and finished with a form-fitting outer shell for maximum protection. Internal knuckle protection is also built into the top of the gloves, as well as padded protection to ward off nicks and scrapes.
Visit EquipmentWorld.com/info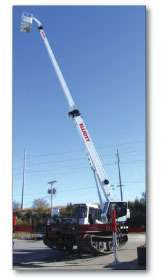 REAR-MOUNTED BOOM
Maneuver Elliot Equipment's 34127R BoomTruck in rough terrain using two sets of 40-inch-wide D-dent tracks and a hydrostatic drive system. The 34127R features a rear-mounted, 127-foot boom with a 34-ton rated capacity mounted on a 15SXW-HF PowerTraxx vehicle. It has a maximum tip height of 137 feet and a jib/platform option with a maximum platform height of 186 feet.
Visit EquipmentWorld.com/info