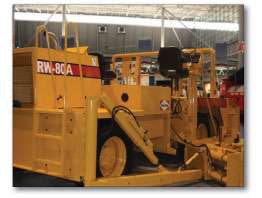 By Tina Grady Barbaccia
Leeboy debuts Blaw-Knox road widener
VT LeeBoy introduces the first of its Blaw-Knox five-product lineup, the RW-80A road widener, Leeboy's new Blaw-Knox Commercial Paving Products division. Each will carry the Blaw-Knox logo. The brand use is provided through collaboration with Volvo Construction Equipment and is part of a business alliance.
The new RW-80A, produced at Leeboy's manufacturing facility in Lincolnton, North Carolina, will be distributed via Volvo Construction Roadbuilding dealerships during the first quarter of 2011.(Leeboy and Volvo entered a business alliance earlier this year to market asphalt pavers and road wideners under the Blaw-Knox name.) The 80-horsepower machine weighs just over 18,000 pounds. The machine features an 8-foot strike-off group enabling 6-foot strike-off capability at a 45-degree angle for proper material flow. Designed for maneuverability, the RW-80A is shorter than other Blaw-Knox road wideners.
The Blaw-Knox lineup will eventually include the RW-100B and RW-195E road wideners and the PF-150Band PF-161B pavers.
Further details will be available at www.blawknoxpaving.com, which will debut in October.
DIGITAL MARKETPLACE
NULLIFY NOISE
Now available in 50-, 60- and 90-pound models, Kaeser's KPB line of ergonomic paving breakers feature noise mufflers on the tools help to reduce noise pollution. A variety of tool steels such as chisels, points, asphalt cutters or ground rod drivers handle specific applications. The valves, pistons and other moving parts are made from shock-resistant tool steel and are heat-treated.
Visit EquipmentWorld.com/info
REEL IT IN
Accommodate longer lengths of twin hydraulic hose with Reelcraft's 9000 Series mobile base hose reel. The 9000 Series features a heavy gauge base design for improved stability. Designed for truck mount applications, the reels can also be floor, ceiling or wall mounted.
Visit EquipmentWorld.com/info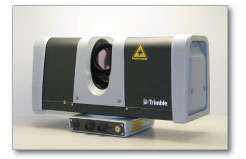 SCANNING SOLUTION
Trimble's FX 3D laser scanner, designed for applications requiring high-accuracy and high-quality data, now has the range to capture high-resolution position information up to 80 meters. The increased range allows more data to be captured from each setup. The laser scanning solution handles plant positioning applications including capturing existing condition data for accurate project planning for basic and detailed design; ensuring dimensions of high-tolerance fabricated parts prior to transportation and installation; verifying as-built construction for quality assurance and additional detailed design; visualizing real-world conditions for training and simulation; monitoring plant assets and potential movement or deformation during use and planning retrofit construction projects based upon high accurate data.
Visit EquipmentWorld.com/info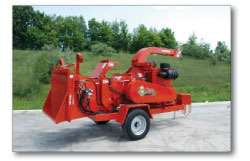 LARGE-DIAMETER DRUM
Improve performance when handling larger material with Morbark's Beever M15R brush chipper, which features a 40 percent larger drum diameter. Located in replaceable holders, the knives eliminate the need to replace the entire drum when one knife holder in the pocket wears out. The feed wheel pivot point and lift cylinders feature modified positioning to decrease dead space and necessary down pressure.
Visit EquipmentWorld.com/info
BRIGHT BOOTS
The HiVis IronClad boots from Rocky use the same reflective features used on road signs to provide safety for those working in low light or dark conditions. The heel and vamp appear to be standard leather during the day, but when the HiVis retroreflective leather is illuminated, bright light is directed back toward the viewer. The boots have waterproof construction; an extra durable ribbed tempered steel shank; a lightweight, shock-absorbing and flexible EVA midsole; optional steel protective toe; an air-port vented polyurethane cushion footbed and seven-layer slip and oil resistant outsole.
Visit EquipmentWorld.com/info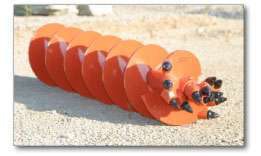 PENETRATION AND PERFORMANCE
Experience high performance in tough ground with General Equipment's TCT Series augers, designed for soft sandstone, limestone formations, caliche, hardpan and more. Boring heads cast from alloy steel and conical tungsten carbide bits ensure penetration in rock and compacted soil. High strength sectional flight minimizes material fallback. Available in 36-, 48- and 60-inch digging depths with 6- to 36-inch diameters, the augers features 2-inch-round, 2 9/16-inch-round and 2-inch-hexagonal auger driver connections for easy attachments to skid steers, compact excavators and backhoes.
Key modifications:
• 30-inch drum diameter
• Four knives in replaceable holders
• Separate fuel and hydraulic tanks
Visit EquipmentWorld.com/info