Introductions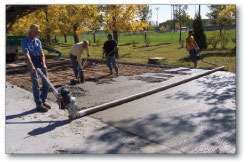 Lightning Screed
The Lightning Strike Screed from Lura Enterprises has a lightweight design that makes screed projects a two-person job. The screed allows a variety of applications, including pervious concrete, low-slump mud, and the ability to do uphill, downhill or circular pours. At less than 4.5 pounds per foot, the screed's aluminum tubes are about half the weight of traditional roller screeds. Screed sections can bought separately or in a contractors package that has a 20-, 12-, 6- and 4-foot roller as well as two wall plugs, two riser wheels, three collapsible tri-pod set up stands and an accessory tote.
Visit EquipmentWorld.com/info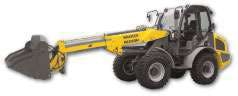 Reach Out
Experience up to 15 feet of extra reach with Wacker Neuson's 750T telescopic wheel loader, which has a long wheel base for smooth driving and easy handling. The 5.1-metric-ton all-wheel steer loader delivers 5,952 pounds of tipping capacity with a .98-cubic-yard standard bucket. A hydraulically operated quick hitch allows the operator to change accessories without leaving the operators station. A 60.3-horsepower Deutz diesel engine powers the unit.
Visit EquipmentWorld.com/info

Consistent Vibration
Produce uniform vibration consistently with Wyco Tools' Sure Speed concrete vibrator, which drives any combination of shaft and head size while performing in multiple mixtures. The Sure Speed's motor controls the vibrator speed, reducing concrete bleeding and segregation, resulting in fewer form face surface defects. Designed with a soft start, the Sure Speed extends brush life and eliminates over-speeding out of the mix.
Visit EquipmentWorld.com/info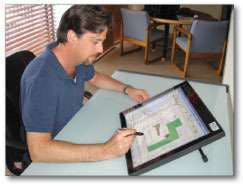 Cost Controller
Perform a range of construction business management applications with Maxwell Systems' ProContractorMX 2.0, a complete bid-to-cash solution that helps contractors retain control and improve operational visibility. The system includes takeoff estimating, bids and proposals, project management, procurement, financials and employee and equipment management. An easy-to-use dashboard system puts all information at your fingertips.
Visit EquipmentWorld.com/info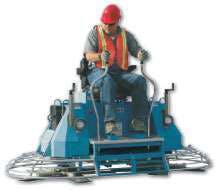 Breathe Easy
Bartell Morrison's Power Trowels now feature an ultra low emissions exhaust system that reduces carbon monoxide in the work environment. The ULE, developed by Candian-based Global Emissions Systems, uses their Dry Selective Catalyst emission reduction system to eliminate up to 99 percent of carbon monoxide, HC and NOx from any commercial fuel burning engine.
Visit EquipmentWorld.com/info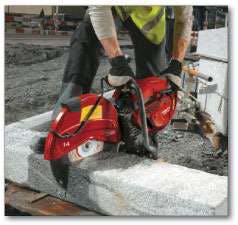 Quick Cuts
Cut a range of materials including concrete, brick, rebar and more with Hilti's DSH 700 and DSH 900 hand held gas saws, which deliver fast cutting speeds and are operator friendly. The saws feature isolated handles with metal springs for vibration control, and a primer bulb and simple starting procedure ensures ease of use. A standard cyclone filtration system simplifies maintenance.
Visit EquipmentWorld.com/info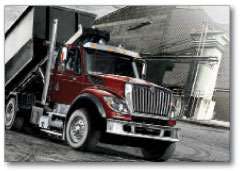 One model
Navistar International has combined its heavy-duty WorkStar models (7600 and 7700) into one model with two variations: the 7600SBA, with a 46-inch set-back axle; and the 7600SFA, with a 30-inch set-forward axle. Both models will feature a new 113-inch bumper to the back-of-cab for increased cooling efficiency. In addition, all-wheel drive is now available up to 18,000 pounds on front axles on mid-range diesel configurations.
Visit EquipmentWorld.com/info

Fuel Efficient
Stihl's MS 362 C-Q chain saws deliver up to 20 percent greater fuel efficiency than previous models, and reduce emissions by up to 70 percent. The saw has a pre-separation air filtration system for fewer filter changes and longer runtimes, and an anti-vibration system to improve operator comfort. The saw includes the Stihl Quickstop feature, as well as a second manually activated chain braking system.
Visit EquipmentWorld.com/info