Bauma gets ready
By Equipment World Staff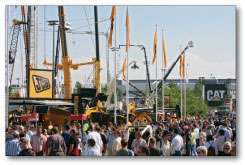 Here's a taste of what will be unveiled during the world's largest construction trade show, to be held in Munich, Germany, on April 19-25:
Cummins: Four engines will be ready for EPA Tier 4 Interim, including the company's next generation 4-cylinder QSB3.3 and QSB4.5 engines for compact equipment.
Hamm will show its new HD+ range of 10 models of tandem rollers, including the HD+ 90 and HD+ 110.
LiuGong will show its 888III large wheel loader, which will be launched into the U.S. market later this year. Bomag presents new vibratory plates and new trench compactors including articulated and radio controlled models, both available in the United States.
Kubota's engine design will offer a new four-valve system. From Vermeer comes the AXIS GB812 guided boring system with a laser guided system for accuracy in the trenchless installation of 10- to 14-inch (25.4- to 35.6-centimeter) pipe for on-grade water and sewer projects.
Terex will present 50 products including new wheel loaders and mobile excavators. A multi-purpose Hauler Chassis concept will be launched by Volvo Construction.
– John Latta
Volvo, VT Leeboy ink Blaw-Knox deal
Among paving equipment, models and even brands come and go … and come back again? Well, yes, in the case of Blaw-Knox commercial pavers, thanks to a strategic alliance between equipment manufacturers Volvo Construction Equipment and VT LeeBoy.
VT LeeBoy, manufacturer of the LeeBoy and Rosco equipment brands, will supply commercial pavers and road wideners to Volvo dealers under the historic Blaw-Knox brand, which was acquired by Volvo Construction Equipment in the 2007 purchase of the Ingersoll Rand road machinery business. Production of the upgraded and redesigned Blaw-Knox PF150 and PF161 wheel-type asphalt pavers and the RW100 and RW195D road wideners will begin early this year at LeeBoy's Lincolnton, North Carolina, production facilities. LeeBoy will take full responsibility for product support of the machines, including units already in the field. New units will be marketed under the Blaw-Knox brand, as part of a five-year brand licensing agreement, and will be distributed through Volvo road machinery dealers.
A trip back through the past five Equipment World Spec Guides reflects just how equipment brands and models can, indeed, come and go … and come back again. Competing in the 8-foot paving width class, what is now the PF161 was listed four different ways in as many years – from the Blaw-Knox PF-161 at 20,400 pounds in 2005, to the Ingersoll-Rand PF-161 at 23,000 pounds in 2006, to the same-sized Ingersoll Rand (Volvo) PF-161 in 2007, and then to the simple, hyphen-less Volvo PF161 in 2008. Over those same years, the 15,290-pound Blaw-Knox PF-150 became the Ingersoll Rand PF-150, the Ingersoll Rand (Volvo) PF-150, and then disappeared.
"The agreement with LeeBoy enables Volvo to concentrate its road machinery technical and engineering expertise and production operations on high-volume Volvo paving, compaction and motor grader equipment," says Göran Lindgren, president of Volvo Construction Equipment North America. "In addition, this strong relationship fosters other growth opportunities for the Blaw-Knox brand."
An established player in compact asphalt paving equipment, the LeeBoy product line runs from the 10,000-pound 1000F track and rubber tire models to the new 33,000-pound 9000 rubber tire paver. "Blaw-Knox is one of the most prominent roadbuilding brands in North America," says Kelly Majeskie, VT LeeBoy president and chief executive officer. And, it seems, right back in the commercial asphalt paving market.
– Mike Anderson
JCB, Volvo form skid steer pact
JCB will engineer and manufacture Volvo Construction Equipment's skid steer loaders and compact track loaders under a global agreement. The first mono-boom Volvo-branded machines will be produced in JCB's Savannah, Georgia, plant by the end of 2010.
Correction: In the February issue of Equipment World, we incorrectly identified Connie Mullett on pages 37 and 41. We regret the error.