Peterbilt's 348 leverages Class 8 bloodline
By Jack Roberts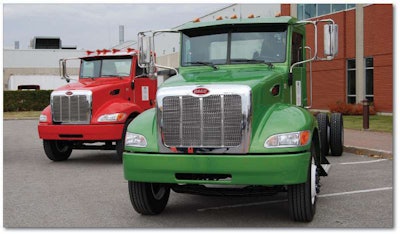 Think Peterbilt, and, more than likely, the first image that pops into your mind is that of a long-nosed conventional tractor hammering hard down a lonely stretch of rural interstate, working hard to get its cargo to its destination on time.
Frankly, that's not a vision the folks in Denton, Texas, find displeasing. But like most American truck manufacturers, the company's first trucks were vocational models: Founder T.A. Peterman was a Washington state logger who couldn't find a truck tough enough to get the trees he was harvesting to the mills in an efficient manner enough to suit him. Since it was 1939, and in the aftermath of the Great Depression, one could purchase failed companies for pennies on the dollar, Peterman did what any annoyed American businessman at the time would – he bought the assets of bankrupt Fageol Motors in Oakland, California, and set about building his own line of chain-drive logging trucks. Since Ford was churning out trucks on an epic scale even then, Peterman decided to concentrate on quality as opposed to quantity. Peterbilt put 14 trucks on the road in '39 and another 82 the following year, and an American icon was born.
Given those corporate roots, I wasn't surprised when Peterbilt invited me and other trucking journalists to Montreal, Canada, to evaluate two new vocational trucks – including the Class 8 Model 348. The truck features a wide array of upgrades and enhancements reflecting the simplicity, maneuverability, value and style today's medium-duty truck market demands, says Bill Jackson, general manager and PACCAR vice president.
The Model 348 – actually a "Heavy 7" Class truck – has a starting gross vehicle weight of 35,000 and a wide array of operational capacities, according to Peterbilt chief engineer Landon Sproull. It replaces the Model 340 with an eye toward the Class 7 and 8 specialty truck markets, including dump truck and other construction applications.
New features include an ergonomically-designed driver display package with easy-to-read, backlit gauges. A standard driver information center has been placed at the top of the instrument cluster for quick updates on critical operating systems. A Peterbilt GPS navigational system is available as an option and can be mounted in a pre-configured, center-dash position. A new, multiplex electrical system improves reliability while simplifying the wiring behind the dash and throughout the trucks and a redesigned HVAC system has higher BTU outputs for faster in-cab heating and defrosting in cold weather.
Lowered and slanted side-window beltlines combined with a lower-profile dashboard have given the truck an overall 17 percent improvement in side window visibility compared to the Model 340. Under the hood, you've got a choice between PACCAR's PX-6 and PX-8 diesel engines with horsepower ratings ranging from 200 to 325 horsepower for the PX-6 and from 240 to 360 horsepower for the PX-8.
The Model 348 is available in truck or tractor configurations and includes front engine power take-off and rear engine power take-off options as well as application specific transmissions and a hybrid powertrain version for utility applications.
"We have leveraged our Class 8 truck bloodlines in designing this new truck," says Dave Kirwan, national medium duty sales manager for Peterbilt. "Look underneath and you'll see solid frame rails. We don't 'swiss cheese' our chassis. The only holes punched in the frame during the manufacturing process are according to customer specs. Combined with our aircraft quality huckbolt fastners, we've crafted a truck that is durable and reliable in the toughest applications – both in the city and out on construction jobsites." EW