Darrell Shortes Jr.
Breckenridge, Texas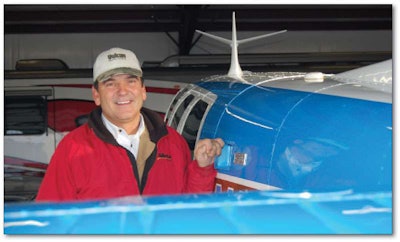 This contractor's formula for success: Hone your people skills and have a passion for making things right
By Marcia Gruver Doyle
Darrell Shortes Jr. doesn't mind being blunt: "I don't care how smart you are, or how good of an equipment operator or business person, if you don't have people skills, don't waste your time getting into this business. You've got to sell yourself first, then you've got to sell what you can do."
Now in his 29th year of business, Shortes has had plenty of opportunity to demonstrate this philosophy. "Darrell and I were arch enemies for years, extremely fierce competitors," remembers Tom Crowder, Tom Crowder Construction, Eastland, Texas. "Now he's a close friend. His company takes care of you. Darrell has one rule and everyone has to follow it: It's got to be right."
Shortes started Raydon Incorporated with a soon-divested partner in 1981, working as a roustabout, maintaining oil rigs. Located in a rural west Texas area about halfway between Fort Worth and Abilene, Raydon still does oil field service work, but today it only represents 15 percent of its revenues.
The firm now has several divisions, including construction services, site work, asphalt paving and repair, pipeline and utility services, in addition to selling crushed limestone, top soil, sand and reclaimed concrete. This May, Raydon added a parks and sports facility division in the Dallas-Fort Worth area, designed to take advantage of the experience the company had gained doing several school sports complexes.
"If you've got five kids, you better figure something out," Shortes says with a laugh. "You've got to be diversified just to stay around here."
Raydon performs primarily as a sub. Shortes likes subcontracting work, comparing it to being the second chair in a band. "I honestly think you can make more money in second chair than you can in first. The guy who thinks he's got to be first, that's fine. Go get that first, and I'll take second."
Shortes has never considered changing the company name of Raydon, a combination of two family names of Shortes' original partner. "The state paperwork was all done," he says with a shrug. "It worked for me." Now in addition to the home office in Breckenridge, the firm has branches in Abilene and Fort Worth. The Abilene address gives the company a leg up on work in town; 50 percent of the company's revenues now come from Abilene jobs.
Raydon's 132-piece fleet includes 32 pickup trucks, the majority used in the company's construction services division, which does metal buildings, drywall and acoustical ceilings. The oil and gas crews use 1-tons equipped with polyfusion equipment.
On the heavy end, Raydon's primary tool of choice is the motor grader, assisted by backhoes, excavators, skid steers and dozers. The company also has two end dumps, four 12-yard trucks and two belly dumps. Shortes built his fleet the cautious way: he started out with two heavy-duty pickups, then when he paid one off, he bought another. Along the way, he bought a small local construction firm that bumped up his fleet by two dozers, two graders and two loaders. "It just grew from there," he says.
The asphalt division, which makes up about 30 percent of Raydon's revenues, is headed by Ronnie Langford, who also is what Shortes terms the "head company motivator. He's a pro at it." Langford is also a fixer.
"We don't whine and point at someone else to fix warranty work," Shortes explains. When problems crop up, he'll send Langford to handle the situation.
Langford recalls one job that prompted him to place a all to Shortes: "I told him, 'This is not our fault, even the general says it's not our fault.' And Darrell just asked, 'Does it make our job look bad?' So we fixed it."
Someone tossed out the term "Raydon Rangers" to describe the company's employees and it's stuck. "You know the old saying, 'Be that guy?,'" asks Shortes. "We use it a lot. Everyone will be wore out, and we'll say, 'Are you going to be that guy?'"
He also rides the younger guys on his crews: "I tell 'em I'm 52 years old and they're all having a hard time keeping up with me even though they're in their 20s. I say, 'Isn't it time y'all stepped up?' But if you work beside them you can get away with that kind of talk all day long."
Every day starts off in the dispatch room with Shortes behind the podium. He goes over the day's jobs, passes out praise for jobs well done and talks blunt about what needs to change. The meeting also provides a daily record of who, what and where – essential when the company does everything from $200 to $800,000 jobs. "It's the small potato jobs that get you in the field where the big potatoes grow," explains Shortes.
Working in this area of west Texas can sometimes mean commutes of two hours, so Shortes pays his crews traveling time. When a job is a distance away, he'll run a shuttle van back and forth from the crew's home base.
Shortes expects his crews to be flexible – especially with each other. "Someone on a crew may be having a bad day," he explains. "I tell the rest of the crew to just step back and cover for him, because some day he may cover for them.
"We try to bring a sense of pride and class with every service we provide," Shortes sums up. "We don't change order our clients to death. We try to be that sub that we'd want working for us." EW
Raydon Incorporated
Year started: 1981
Annual volume: $12 million
Employees: 70
Types of projects: Site work, demolition, paving
How they grow: Maintaining target goals on every job; diversification
What makes them successful: Flexibility when specifications change. Being a team player. Professionalism in problem solving.
Honors: 2007 Breckinridge Chamber of Commerce Business of the Year; 2008 Abilene Better Business Bureau's Torch Award
Safety on high
Shortes' firm belief in diversification is prompting him to look higher, literally. Noting the exploding population of wind turbines in his area, Shortes observed exterior turbine maintenance being done by "guys on ropes," as he puts it. To offer a safer alternative, Shortes and partner Steve Roth have formed Abilene High Lift Aerial and purchased a Steiger TTS 1000 aerial work platform with a working height of 328 feet.
Delivered this summer, the TTS 1000 has the highest reach of any aerial in North America, says the company. With a 131-foot horizontal reach and a 1,102-pound platform capacity, it can withstand winds up to 35.8 mph. A Mack Granite truck provides both power and the base for the work platform, which is manufactured by Ruthmann in Germany.
Abiline High Lift Aerial provides lifting services – including an operator with a Powered Access License issued by the International Powered Access Foundation – to wind energy service companies as well as other industries with high access requirements.
"Let's say a turbine has a seal leak," Shortes explains. "We know how to fix that seal, but we don't want to hang from a rope doing it. With the work platform, all of our electrical services are right there, and we can cut the maintenance time in half."